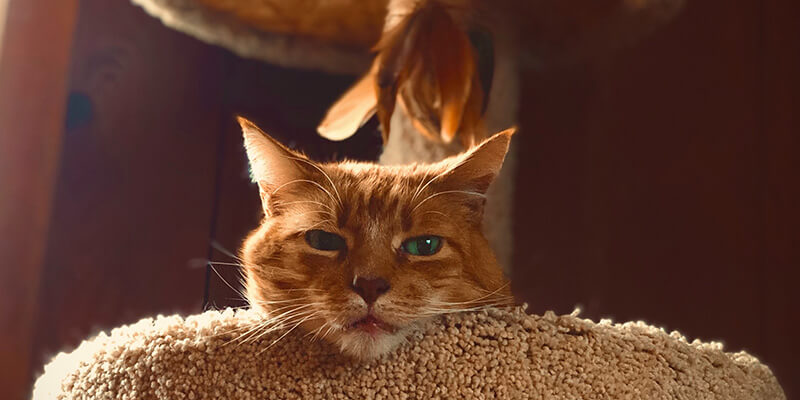 Do Cats Really Like Cat Tree Condo Towers?
If you have a little kitty in your life, chances are you want to bring the world to its feet. We feel you. Our pets bring us unending happiness and emotional comfort every day. Therefore, it's up to us to make their lives as fun and comfortable as they make ours.
So, what can you get your precious fur ball?
Well, a multi-level cat tree condo tower could be an exciting little addition to your household – one that your furry little friend would absolutely love. Not to mention, it will bring some advantages on your end as well.
Most cat owners at one point see their cat running and jumping all around the house. Playing with things that they find interesting, scratching at the couch or sofa, or climbing on every shelf in your home.
Now, before you complain, it's all a part of their natural instinct. Instead, what you could do is provide them with the perfect cat condo to vent their energy out on. Fortunately for you, placing a multi-level cat tree condo tower in your home would solve all your problems!
What is a multi-level cat condo?
As the name suggests, a multi-level cat condo tower consists of multiple solid levels that your cat could perch, play, or rest on. It is generally made of wood or lumber and has sisal ropes that are used to cover certain parts.
Each level comes with special features designed to keep your cat engaged for long periods of time. This may include a cubical box for hiding and resting, a perch on the top for climbing and looking around, or toys to play.
The parts with sisal ropes on the cat tree condo towers are known as scratch posts. It gives your cat the chance to scratch on them. And guess what? Keep their nails sharp at the same time.
That way, you also don't have to worry about things getting tiny scratch marks in your home. Lucky for you, almost every cat tree condo tower has scratch posts.
The variety of cat tree condo
Cat tree condo towers come in various shapes and sizes, such as some are built like slopes, some look like a shelf or a box like a square. So, be sure to choose one that provides adequate space and comfort that your pet needs.
There are a few condo towers with climbable ladders and perch built on the top so that your cat can easily climb their way up. We know these as the cat tree condo with climbing tower. It provides them with a view from the top so they could keep an eye on their surroundings below. Being natural hunters, they're sure to fall in love with this new setting!
You could also mount some of the cat tree condos on the wall as well. Better mount them on a wall beside a window. That way, your pet kitty could enjoy the view out from the window.
Do cats really love cat tree houses?
Well, cats are extremely curious creatures, but they are pretty lazy too. Being a cat parent, you probably know this behaviour pattern very well.
And unlike dogs, they don't prefer the company of people 24/7. So, there comes a time when they will need their personal space and time. Being a responsible pet owner, you must acknowledge this need and create a separate territory where they can retreat.
This is where the cat tree house comes in. This multi-functional space gives them room to brood, stretch, play,scratch, and sleep. Some cat tree condos even come with toys and things that will keep your furry friend engaged.
But it's your duty to pick the perfect cat condo, ensuring the material is comfortable and the build and functionalities are high-grade.
How to choose the best match for your feline friend?
So, which cat tree house should you go for? A climbing cat tree tower? Or a cat tree condo tower with ladder and scratching posts?
Well, that depends on your kitty.There are many options available in the market. You could choose one based on the size, weight and nature of your cat.
Advanced ones include more options such as spring balls and other similar toys to make your cat interact and play with it. Others are made in a way that your cat could rest or sleep comfortably.
Most cat tree condo towers even provide your cat for a place to hid themselves whenever they wish. So, no more hiding under the couch or the bed. Whatever may be your reason, there is a purrfect cat tree condo tower out there for your little ball of fur.
The Foldable Crown Indoor Cat Tree House, on the other hand, is made from composite wood. You could rely on the high-quality material that will be both safe and non-toxic for your little friend.
When unfolded to the highest point, it measures 56 cm x 56 cm x 94 cm, and 38 cm in a folded condition.
And of course, the Rotatable and Retractable Cat Condo Tower from Petellow is an extremely good choice as well. It's cute, it's unique and stands as an aesthetic piece that you and your cat would definitely love! It measures 50 cm x 50 cm x 96.8 cm with composite wood built.
The rotating and retracing feature allows you to use this cat condo tower for multiple purposes; rotate it up to make it spacious for your cat so it could freely play or retract it to carry your cat or keep them still in their comfy little place.
Lastly, if you're looking for a simple design, Rotating Cat Tree For Climbing could be ideal. It has three layers that your cat could use when unfolded to its highest point. Your feline could then use the bottom layer for resting and sleeping purposes.
It measures 50 cm x 50 cm x 100 cm when unfolded to the highest point. This particular cat tree house therefore is a decent fixture for your house.
Consider your cat's age and personality too!
Now, before you buy a cat tree condo tower, there is another crucial factor you should definitely consider. Like humans, every cat is different. Some like the young ones like to play much while some like the big, elderly ones might like to keep to themselves and sleep most of the day.
So, you could go for the playful cat tree house with climbing tower and scratching posts if you have a young little kitty at home or a luxurious comfy one if you got an older one. Knowing your cat well is going to warranty the best buy at the end of the day.
Wrapping up
So, if you're set on buying your cat a well-suited multi-level cat tree condo tower, it's best to get your research done before the final purchase. Click here to check out more cat tree condo towers.