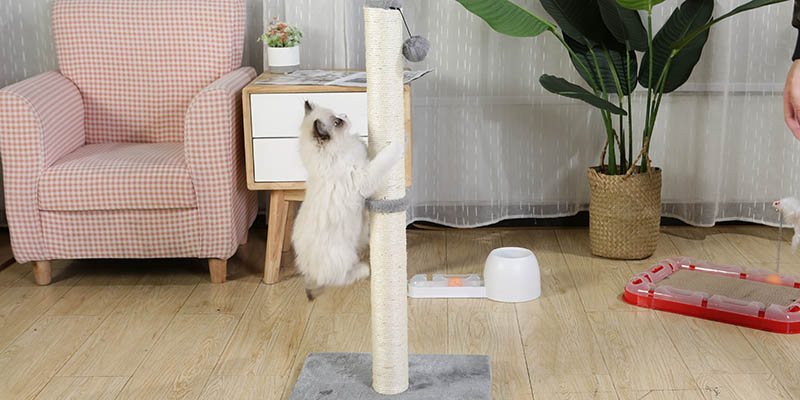 How to Choose Right Cat Tree Scratching Posts?
Cats have grown to become human companions for the longest time in history. Being close to people has seen them get special attention, ranging from living together with the owners in their house to becoming part of their life. Despite the goodness that cats have towards human beings, some of their behaviors are sometimes very annoying. It is common to get a cat scratch on whichever surfaces they get, without minding the effect they may cause. Even though scratching is a common practice among cats, it brings so much destruction that, frustrates the owners. So, for your safety and that of your property: you need to choose an appropriate cat tree scratching post for your cat.
Why do cats like to scratch?
Sometimes it is a mystery to comprehend why cats scratch, but let this not worry you. Understand that scratching is a normal and healthy activity for every cat. Instead of stopping it from scratching, learn to deal with it as you live. Of course, every cat lover would not want to have their carpets, sofa arms, and other items become shred and tattered. Nevertheless, it is a puzzle for the same cat lover to give up their cat.
Essentially, why do cats like scratching? It is not true that cats scratch only when they are upset, angry, or hungry, but they do it because they want to:
Stretch their bodies and muscles and exercise their claws and feet.
Have fun
Mark their territory since their paws contain scent glands that produce a scent at every scratch. This behavior provides an olfactory and visual way to mark a territory: it works best for wild cats.
Remove sheath (dead layers of tissue) from their claws
Sharpen their claws.
Relieve anxiety
Send signals to other animals.
Why do cats not like to use the scratching posts?
A cat's scratch is intuitive, and we must not stop it for the reasons we have seen above. As much as scratching may be destructive, we have the best alternatives that provide a correct format for the cats to scratch, and this is the use of cat tree scratching posts. Of course, many cats may fail to use these scratchers. After a deep excursion, we have found possible things that make cats not to use the scratching posts.
Usually, cats stand on their back legs when they scratch. So, they need a cat scratch tower that is tall enough for them to stand. An ideal scratching post should be high and above the head: the front paws must stretch on it completely. If the scratching post is short, then your cat will avoid it.
Cat tree scratchers that are sturdy make the cats enjoy. If the scratching post tends to be unstable or shifts, it will scare the feline, hence dislike it. Make the scratchers stable by fixing them onto a surface: This explains why most cats do not use cardboard cat scratchers that hang.
You need to study your cat to get a texture that pleases it before acquiring a scratching post. Those cats that like to scratch carpets will prompt you to nail a piece of carpet to a sturdy scratching post. Cat owners who do not know what their cats like: should consider winding a natural rope around an immovable column. Cats dislike static: avoid plastic ropes and artificial fibers that cause static. Besides, try also clothe and corrugated cat scratchers. Whenever a cat gets a scratcher that it does not like, it also dislikes the scratcher post.
Moreover, when a scratching post is in a place that your cat does not access, it will abandon it. Ensure the scratching post is conspicuous and at a position that the cat prefers. Put it close to their napping spots since most cats scratch immediately they wake up.
Types of cat scratchers in the market
Depending on the position, material space they cover, we have different types of cat scratchers. If you intend to or already have a kitten or cat, follow through to understand what scratcher you can get for your feline. The usual cat scratchers include:
Scratching posts: Most people refer to scratching posts as the ideal cat scratchers that exist. They are smaller with a height of about 40cm to 150cm. These scratchers come in different models whereby, some include a bed while others have toys on top or at the bottom.
Scratching towers: These are the commonest cat scratchers in the market. They are the tallest (some are over 2M), bestselling scratchers, and convenient for people with many cats in their house.
Cat trees: Among the complex cat scratchers are the cat trees. They take a large space and are the best for households with many cats. Because they have a base from where various cat tree scratching posts emanate: Cats can play, rest, or climb different places on the cat trees.
Vertical scratchers: Vertical scratchers are practical, economical, and fundamental. Mostly you find them in pet shops, and they take an inclined shape. They are handy when you want to stop the cat that scratches your furniture since you can install them on furniture, walls, and doors.
Flat scratchers: These are the favorites scratchers for cats; that prefer to scratch or stretch on a horizontal surface; especially, the kittens. The cat scratchers contain a piece of carpet on a flat surface. They are very economical and practical.
In the process of accommodating the instinctive scratching behavior of your cat(s), ensure that you do enough study and research to choose the best cat scratcher. The best scratcher completely diverts the attention of the cat from scratching "illegal" surfaces.
Cardboard cat scratchers, cardboard cat scratcher house, and corrugated cardboard cast scratcher can fall under scratching posts, vertical scratchers, or plat scratchers, depending on how you use them.
Cardboard Scratcher vs. Scratching Post
Choosing an appropriate cat scratcher sometimes is so hectic; if you do not have enough knowledge and deep understanding. In this segment, we will give you insights into the cardboard scratcher and the scratching post. Remember to choose the best cat scratcher for the wellness of your furniture, walls, and other items in the house.
Undoubtedly, cats will never cease to scratch. What should matter is the surface on which the cats are scratching. When we look keenly into scratching posts and cardboard scratchers, we get that cardboard scratchers are cheap while scratching posts are relatively expensive. On the other hand, the scratching posts are durable, while cardboard scratchers are short-lived.
A close examination of scratching posts indicates that cats prefer them because of their wider scratching surface and varied angles. Also, they allow the cats to stretch to higher heights in the upright nature. With the cardboards: cardboard cat scratcher, corrugated cardboard cat scratcher, and cardboard cat scratcher house, they please the cats when under the paws. The cardboards produce a pleasant sound to the cats. Moreover, that soft surface scratch satisfies the cats as the board tears away. However, cardboard scratchers can be a menace in the house as the little pieces from the boards scatter all over.
How to design a cat tree scratcher that cats will like
Unarguably, cats will always like to scratch, climb, and snooze: and a good cat tree will serve them well. There are a series of items that you should consider before, during, and after constructing a cat scratch tower or cat tree. We categorize the considerations into two categories that include: space and materials.
Space will help you determine the size of the cat tree and design. Look for various pictures of cat trees online or at the nearest pet store. Decide on the materials that you will use for construction. Settle also on the cover material that will suit your cat tree. If possible, prefer natural material over synthetic or artificial ones.
Precise steps that you can use to construct a cat tree scratcher are:
Identify an appropriate design. Space, the cat's personality, and your carpentry skills will determine the scratcher design. Sketch the design on paper and list the materials you need.
Go for the materials. The design will help you determine the material you need. Choose to use plywood (good for horizontal platforms), a carpet to cover the wood, or PVC pipe for vertical support. Remember, you need other carpentry tools to assemble your cat tree.
The next step is to mark and cut materials in line with the plan/design.
Start with the base. Make it as sturdy as possible. You may even join two plywood to make this base thick.
Use the carpet to cover the base before erecting the vertical supports. Ensure the carpet size is large for it to cover the edges. Staple the carpet from the underside.
Now, erect the vertical supports on the base. Drill the holes that will hold these supports also from the underside.
Affix the perches and wrap them with the carpet.
Fix each component according to the design, and you will have your cat scratch tower complete.
Choosing the right scratcher for your cat will immensely save your furniture. As you Work well to get an appropriate one, consider the cat tree scratching post for your cat. Corrugated cardboard cat scratcher, cardboard cat scratcher house, corrugated cat scratcher, and cardboard cat scratcher are also other convenient cat scratchers.