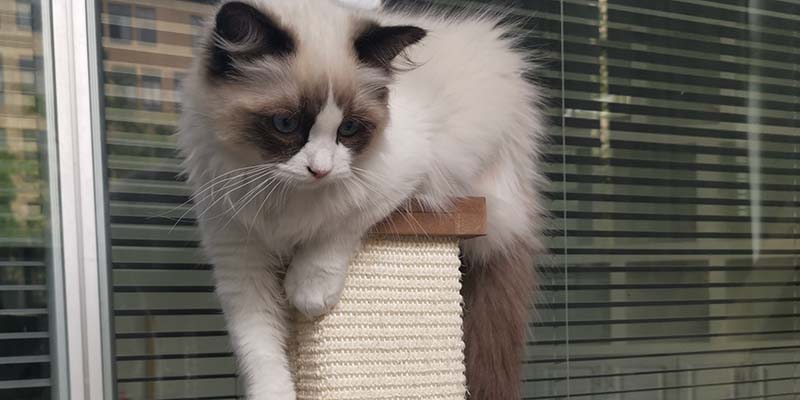 Why Choose Sisal Fabric Cat Scratching Post?
As lovely it seems to have a cat as your pet, it's extremely difficult to take care of it. You would regret your decision especially when you see your lovely sofa getting torn into pieces. Not just your sofa but your furniture, door frames and everything. However, you don't need to send away that poor creature because of something god bestowed in it. Well, yes, cats have an intuitive or natural urge to scratch which can even make them relentless if they don't get the right object. In order to resolve this issue, all you need is a sisal fabric scratching post.
Now you must be thinking what's so special about sisal fabric cat scratching post? This is why here in this article will discuss your cat's scratching habits while taking a look at the available fabrics for your cat's scratching post. Being a cat owner, you should know that a scratch post is extremely necessary for maintaining their well-being.
1. Why Cats Scratch & How To Make Them Do It Properly?
The very first reason why cats scratch is to highlight their area or territory. It's kind of a signal or symbol for other cats to know that this territory belongs to that cat. Now, they not just leave physical scratches but also their scents that are secreted from the glands in the paws. Moreover, a sisal fabric cat post would also help them to take care of their claws as they can eliminate the old claw sheaths.  
You will notice that when your cat begins to scratch, they stretch its claws along with the front legs. If you bring them a suitable cat scratching post with sisal fabric, then they will probably stick to it and keep scratching at the same place. However, if they have chosen your furniture as their favourite scratching place, then it's not really a good sign. Now, let's see how to lure your cat into scratching on its cat scratching post. Sisal fabric would make the process even simpler.
First of all, to get your cat diverted towards the sisal fabric cat scratching post, you need to place it in a vertical state. However, some cats might prefer horizontal ones too, you can check by both the placements to see which one is enjoyed by your cat. Moreover, the post should be tall and strong so that the cat can scratch the entire body on it.
The principal thing to make your cat use the scratching post effectively is to locate it in the significant areas within your residence rather than in a garage or any basement.  The best spot would be their sleeping area.
Choosing the fabric is the most important task. Sisal fabric scratching post is highly recommendable.  
Now, the most important thing is to bring your cat to the scratching post. You can use catnip on the post, its base and within the fabric as well. Play with your cat for some time near the post and use it as a prop.
One of the critical things to induce your cats to use the cat scratching post sisal fabric by rewarding the cat every time it uses the post. You can give them their favourite food items.
2. What are The Options to Use on The Scratch Post?
Well, the main material to create a scratch post is mostly a solid base, which is further covered with fabric. Now, the fabric of the cat post can be of various types including carpeting, sisal, cardboard, however, it's recommended to use a sisal fabric cat post. The reason carpet doesn't suit posts is because it can resemble the looks of stairs and other carpeting on the floor. Your cat may not be able to distinguish between the post carpet or your house's actual carpet. A cat scratching post with sisal fabric would help you manage your cat's scratching habit most healthily.
3. Is Sisal Actually Useful For Cats?
Of course, it is. Sisal fabric cat post often proves to be extremely beneficial for cats. The fabric is made of the Agave Sisalana plant which has its origin in southern Mexico. Although, they can be found in other parts of the world quite easily. It's an eco-friendly material with biodegradable and sustainable qualities. The material is also applied in rugs and carpets.
The cat scratching post sisal fabric is highly robust and rough and it makes your cat feel like the bark of the tree. Wild cats usually like the tree's bark for scratching. You would also prefer sisal for its durability. There is no need to keep on replacing it, once bought it will be useful for years. However, be sure about the number of cats using it.
4. How to attach sisal fabric to a scratching post?
Now, if you are planning to go for a DIY sisal fabric cat post, then you need to know how to attach it to the post. There are multiple options including staples and nails, however, they can be a little harsh or dangerous for your cat's claws. So, the right choice is glue. You can get the rope of sisal fabric and wrap it around the length. You don't need to use it on every wrap, a simple glue after a certain period or when the fabric starts to come off after scratching. You can use the glue gun or hot glue, either is suitable. Wait for some time after attaching the glue to the scratching post and let the smell go away.
5. Where Can You Find The Authentic Scratching Post With Sisal Fabric?
Though there are numerous sites and physical outlets where you can find a cat scratching post with sisal fabric, however, the right choice would be Petellow. They have a range of amazing products and accessories for your lovely pets. The Tall Sisal Fabric Cat Scratching Post and Cat Roman Column Scratching Post Sisal Fabric With Perch are their top products in the category. Do check out their offers and get the right scratching post for your little cat.
That was all about a sisal fabric scratching post for your cats. It's important to take care of those tiny little creatures who want nothing more than your love and attention. This sisal fabric cat scratching post is nothing but a small way of showing affection and care towards your pet. Do not choose to get your cat's claws declawed because it might affect their health devastatingly.