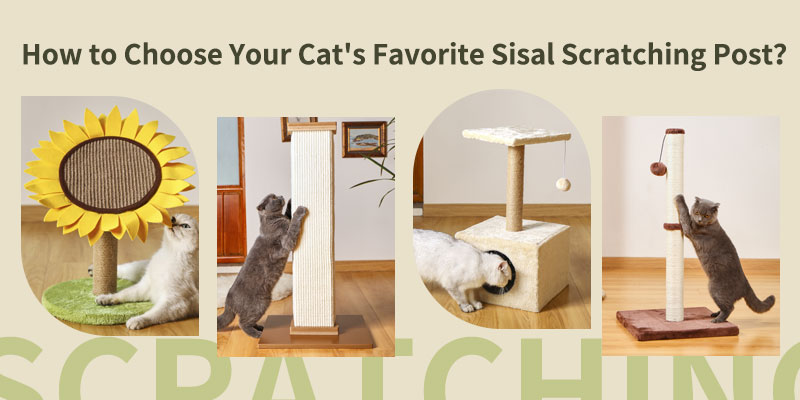 How To Choose Your Cat's Favorite Sisal Scratching Post?
Do you also have such a problem, when you choose various and expensive sisal scratching post for your cat, your cat still "likes" your sofa the most. You might think your cat doesn't like scratching posts, but it's not. When people choose a cat scratching post, they often enter a misunderstanding, that is, they choose a cat scratching post that attracts them, and ignore what the kitten needs.
You need to choose a sisal scratching post from your cat's point of view. And we will discuss in the next section what features should be included in a scratching post that your cat loves.
Research has shown that scratching posts that are 31 inches and above are better suited for your cat. Your cat needs to fully exercise and stretch the muscles while scratching, which is important for the cat's health. If your cat is constantly squatting and scratching, don't worry, it's just another form of exercise for them. But you need to provide a sisal cat scratching post high enough to satisfy your cat's scratching in different positions.
2. Sisal scratching post with sturdy base:
Your cat is smart, and if the scratching post isn't stable, your cat won't use it. This is why your cat will choose relatively stable furniture such as sofas to scratch. If your cat falls over while using the scratching post, it will be hard to trust the product.
At the same time, for safety reasons, the firmness of the base is particularly important. A cat scratching post that is tall enough, if the base is not stable enough, can cause huge damage to the cat. So when buying a sisal scratching post for your cat, it is recommended to choose a style with a thicker base.
3. Materials that conform to cat habits:
When buying cat scratching posts, will you encounter such a problem, there are too many choices of materials, and you don't know how to choose. In fact, the application and design of many materials do not have any appeal to cats, it is only in line with your personal preferences.
3.1 Sisal fabric scratching post is a good choice. Give your cat a good scratching experience while being durable. Your cat will love the feel of shredding sturdy material, accompanied by the scratching sound. Many styles of cat scratching posts on the market are wrapped with sisal rope. But in fact, cats prefer sisal fabric surfaces. The surface on which the sisal rope is wrapped will affect the cat's vertical chopping motion. Conversely, sisal fabric has just the right texture and resistance to allow the cat to smoothly draw its paws off the fabric without being interrupted.
3.2 About the surface covered short plush. Many styles of scratching posts are covered with plush rugs more or less . And your cat may appreciate the soft, comfortable feel. But if your cat is constantly scratching the carpet in your home, then this is not a great option. Because it will not be able to tell the difference between the two. You can choose a style that is different from the material of the carpet in your home, or avoid to use it. Because it may hook the cat's claws when scratching.
3.3 It is also important to choose the post body of the hollow paper tube. You might be wondering why didn't choose a solid wood post. That's because it's easy to cause the sisal cat scratching post top-heavy and even tip over, even if you choose a thicker base. The cat's preference and safety will always be the first element of choice.
4. Sisal scratching posts at different angles:
You need different styles of sisal scratching post to pique your cat's interest and keep them busy and active. Pleasant scratching experience so they won't feel lonely when they're home alone.
4.1 Vertical and horizontal cat scratching posts. Not only does your cat like to scratch upwards, but it also likes to scratch horizontally. I'm sure you've noticed too, your door frame and your carpet. You can choose two types of cat scratching posts, or you can choose one that combines the features of both.
4.2 Sloping angled sisal cat scratching post. Provide different angles of scratching experience, better stretch muscles and exercise, which is beneficial to the cat's health. No one can say no to something new and interesting, and neither can your cat.
5. Cat scratching post house with horizontal platform:
If you already own the basic cat scratching post, or you are more than satisfied, you can purchase a cat scratching post house with a horizontal platform for your cat. While satisfying scratching, it also provides a place for cats to perch and rest. Cats like to look up from high places, so you can place this scratching post by the window to let your cat enjoy the sun on a warm afternoon. Your windows can also escape damage from cat paws.
When you choose the sisal cat scratching post from the cat's point of view, you can clearly know what style and material the cat's paw likes. To meet the different needs of cats, you can buy a variety of different styles of cat scratching posts and place them in different areas. Such as: places with high traffic, near windows, where cats sleep, and places where you often move. Of course if you have more than one cat, this is an option for the safety of your furniture and the health of your cat. I believe that through this article, you have a clear goal on how to choose a cat sisal scratching post.