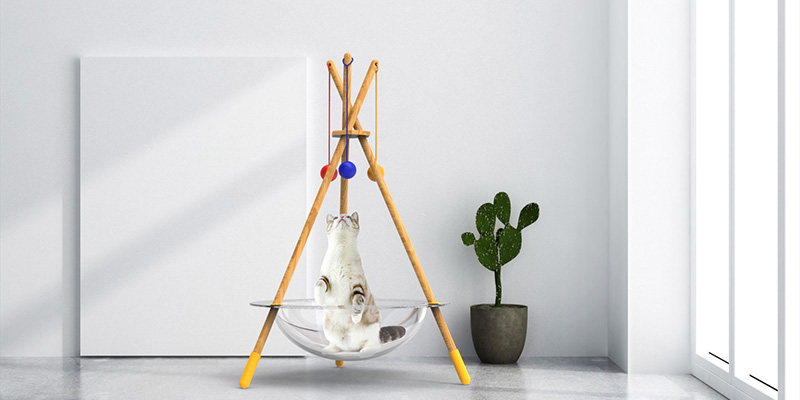 What Type of Cat Bed Do Cats Prefer?
Whether I should choose an acrylic cat bed or felt cat bed or simply let my cat sleep on my bed? These questions must be running all over your mind if you have recently welcomed one of these mellow creatures. Your cat would certainly look stunning, gorgeous and extremely cute, but there is something that can put a comma (,) on your peace. Well, it's about taking care of them. It's not that easy to take care of cats as it may seem. You need to be very specific, especially with the beds you choose for them. How would you feel if you buy your cat her very own cat space capsule bed and she prefers to sleep on a mat or within a pile of tissue papers? Disappointed, for sure. Well, you don't have to worry anymore as this article is going to help you make your cat happy and feel comforted in the right bed. Take a look at their behavioral patterns and make the right choice.
Do Cats Need a Bed?
In order to answer this question, you need to understand your cat correctly. Now, one thing you need to know is that every cat will have different behavioral patterns, they can be cute or fierce or even laid back. You may have a cat, who is super-excited to play and cuddle but there can be ones, who prefer to not be disturbed. Cat's sleeping patterns can be different too, some of them might want to sleep with their owners or some simply want their own space. If you want to bring your cat a beautiful sleeping space, then it can be a very nice decision. A clear cat bed would enable you and your cat to have a comfortable sleep. In certain situations, cats don't like sleeping in their special cat beds. But why is that so? Let's check out.
Why Won't My Cat Sleep in a Cat Bed?
Many people have these complaints that they buy ultra soft cat beds and their cats don't like them. However, the most important question is why do they do that? Now, there are certain specific reasons for this issue. Take a look,
The smell is inappropriate.
The location of the bed could be a factor.
It's over comfy and sometimes cats won't like it.
Where Do Cats Like to Sleep at Night?
The most popular sleeping space of cats is found to be the owner's bed. Research by Howell and his friends in 2016 shows 34% likes to sleep with their guardians while 22% like to sleep near furniture, however, 20% of those prefer to sleep on their cat bed. Many people have also found that cats don't like to sleep on the bed for the whole night. Moreover, many cat guardians and owners have highlighted that they don't feel comfortable while sleeping with their cats, hence, it's important to get your cat a good and adequately comfy bed of their own. So, they may sleep for some time with you on your bed but will drift to theirs after a while.
What Type of Bed do Cats Prefer?
Now, here comes the most important part of the blog. Which bed to choose from? Is it going to be an acrylic cat bed that allows you minimal maintenance as simple washing or the felt cat bed? Don't worry, here are some options quite prominent in the market. Check out them and make the right choice.
Cat Space Capsule Bed: It's a bed with ultimate comfort and perfect seclusion for your cats to get some rest. It's an innovative design with a transparent dome top to keep your cat aware of what's happening around her. If you are willing to buy one of this, then check out Space Capsule Clear Acrylic Cat Bed With Tripod and Yarn Balls. It is certainly one of the best choices.
Clear Cat Bed: A clear cat bed is one that usually has a plastic round around the bed to allow the cat to get cosy in their space. Different clear beds have varying designs, so select the one that suits your cat.
Clear Cat Bowl Bed: These beds have a plastic outline and a bowl design that allows your cat to easily curl up and further the open part allows them to keep their eyes on everything.
Felted Cat Bed: The felted cat beds would make your pet feel cosy in their natural environment. Well, it's not the nature coming in, but at least imitating. Most of the felt cat beds are in cave design. They can be made of different fabrics.
Felted Wool Cat Beds: Cats usually love wool fabric, so you can get your cat a charming wool cat bed.
Felt Cat House: The classic cat felt the house would make your cat feel that she/he is living in their habitat. Moreover, the cat felt house is also the cat felt beds, so you don't have to worry about buying a different bed.
Acrylic Cat Bed: These classic cat beds are highly preferable as they not offer the right amount of comfort but also makes it easy for you to clean and offer highly convenient maintenance.
How to get your cat to actually use their cat bed?
Once, you have chosen the bed, it's time to get your little monster to sleep on those perfect couches. Here are a few tips, you can follow.
The cat's bed should look extremely appealing. Not just aesthetically, but a little treat wise too. Add some of their favourite delicacies. These would include catnip.
Make sure space has something with which your cat can play.
Stay with your kitty until she drifts to sleep beside the new bed.
Applying pressure or force is not going to help, so don't try to do that.
Leave some goodies on the bed to keep your cat enticed about it.
That's it, you are good to go. No matter if you want to bring an easy to move and maintain acrylic cat bed or the stunning felt cat bed, the important thing is to develop a habit of sleeping on the new bed within the cat. Your decision about which bed to choose would depend on how your cat likes to sleep. Make sure they feel relaxed and stay happy all the time!