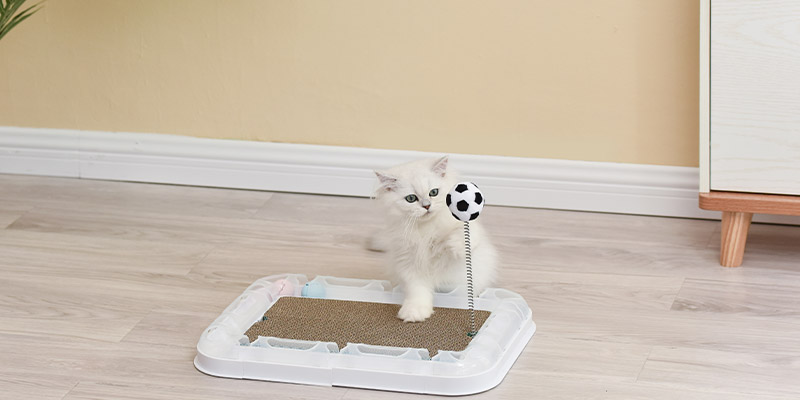 How Do You Pick the Cardboard Cat Scratcher Bed?
Picking the right cardboard cat scratcher bed for your cat could be a tricky task. After all, there are so many factors to consider. Not to mention, it could be a tiresome endeavour to filter through so many expensive options that are available in online as well as offline stores. When it comes to deciding upon the kind of cat scratcher bed that is worth buying, instead of picking something you like, try to think about something that your cat would prefer. With a few pointers in mind, you can find exactly what you are looking for. Below is everything you need to know about a unique cat bed with a scratcher insert, that your cat will find amazing.
What is the utility of a cat scratcher bed?
A cat scratcher bed is incredibly useful if you want your cat to remain healthy and well-adjusted. Scratching comes naturally to cats, it is an urge that they cannot control and therefore, you are required to provide an outlet for them to release their urge. The cardboard cat scratcher bed serves the exact purpose. Therefore, with a round cat scratcher bed, you no longer have to worry about your cat destroying your precious drapery, carpeting, and furniture.
There are also other utilities of a bed corner cat scratcher, for instance, cats enjoy stretching and exercising on these. Thus, by investing a little in buying a unique cat bed with a scratcher insert, you are also investing in the health and well-being of your cat.
Furthermore, cat scratcher beds help cats maintain the grip strength of their front and rear paws. Similar to human fingernails, cat claws grow throughout the lifetime of a cat, and therefore, they are needed to be taken care of. Usually, cats figure that out on their own. Cats use their teeth to pull at the sheaths of their rear claw, whereas, for the front claws, they dig into their claws hooking into certain materials, and pulling in a downward direction. This results in old sheaths getting pulled off, revealing new claws underneath. With a good cardboard cat scratcher bed, cats can easily pull off old sheaths and get rid of them.
What is a cardboard cat scratcher bed?
Cat scratcher beds made from heavier corrugated cardboards are great for scratching. Usually, flat and angled cat scratchers utilise cardboard materials. The surface of the cardboard feels pleasant as well. Not just that, cats love the screeching sound that comes from scratching on a cardboard cat scratcher bed.
Also worth noticing is the enormous price difference that exists between a cardboard cat scratcher bed and other types of scratcher beds. Cardboard is quite affordable, therefore, you can frequently replace the scratcher beds, without worrying about the costs.
How do you pick the best cat scratchers?
Below are some of the main pointers, that will help you pick the best cat scratcher for your cat:
Consider the sturdiness factor:
Even though cardboard is a type of material that cannot take intense external pressure, however, it is still a sturdy material that would adequately support your cat's weight. What matters the most while buying a unique cat bed with a scratcher insert, is making sure that the material is sturdy.
Take stability into account:
Cats could be fierce while scratching their claws, and therefore, you would need a stable round cat scratcher bed that won't just topple onto the cat, every time there is a scratching session going on. To prevent your cat from getting hurt, it is recommended that you should go for a cardboard cat scratcher bed, instead of something heavier like wood. Cardboard cat scratchers are built to lie flat on the floor, and are big enough that the cat can easily scratch while standing on the bed.
Consider where you would place the bed
You should pick a cat scratcher bed that would fit perfectly within the space that your cat prefers to spend most of its time in. Because only then would your cat embrace the unique cat bed with scratcher insert, and would use it how it ought to be used. Hence, placement is definitely a factor to consider. Choose a scratching bed that could be placed in the most used area of the house.
Some of the best scratcher beds for Cats
There are many different types of bed corner cat scratchers, available in the market. However, some are more popular than others, like the ones mentioned below:-
Having a tall scratcher could help cats as it would enable them to stretch themselves and be more physically active. The cardboard cat scratcher triangle house comes with a ball. Cats can use this scratcher for stretching their backs, shoulders, and other bodily muscles. It also helps cats release their stress and anxiety, thus, to ensure that your cat remains well-adjusted, get your hands on this tall and sturdy cat scratcher triangle house.
Scratching is an integral part of a cat's life, thus, you should try to make the scratching experience of your cat, as pleasant as possible. You can do that by finding a cat scratcher bed that is aesthetically appealing in texture, sturdy in use, shaped in a way that makes it easier to place it in your cat's favourite spot. All of these characteristics are found in spades in the round cat scratcher bed made up of cardboard. It works wonderfully for cats, as it not only serves the purpose of scratching but also functions as a resting spot for cats.
Another interesting cat scratcher that you can take home for your cat is a cat scratcher board with balls and even small cat toys. More suited for bigger cats, this cat scratcher board comes with a double-walled, corrugated scratch surface. The thicker the board, the more longer it is likely to last. The purpose of building a cat scratcher that features holes, ball toys, and even an IQ busy box, is to provide a fun space for your cat in a compacted area.
Note: Keep in mind that the cardboard material used in the making of the above cat scratchers, cannot stand heavy external pressure, also, it is not waterproof.
Conclusion
When it comes to choosing the right cat scratcher bed for your cat, there is no one right answer. You have to take into account all of the above-mentioned factors, and also consider the different kinds of amazing scratching beds that are available online. However, if you are new to raising a cat, then it is better to start with the least expensive option because you would be able to replace it whenever you want, without any qualms. This is why you should pick a cardboard cat scratcher bed. Your cat will love it.