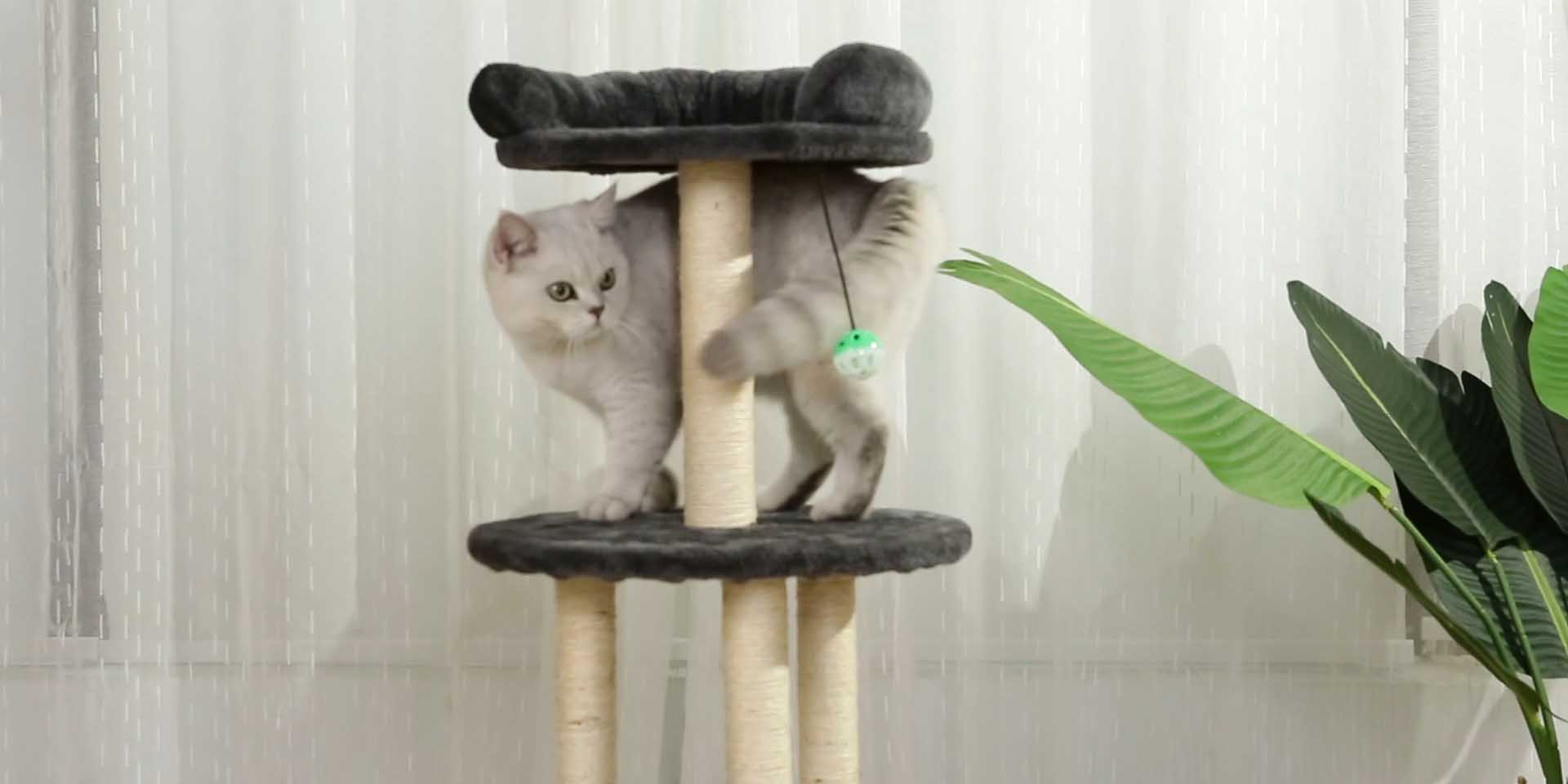 How to Choose Good Cat Tree Furniture?
Cats are great pets because they are independent and take care of themselves. However, they do need things of their own so they don't destroy thing like curtains or furniture legs. They often scratch on nearby objects to keep their claws sharp and the wood on the front of your couch serves their purpose. To keep this from happening you need to invest in good cat tree furniture.
Cats are used to climbing trees, jumping from the hood of the car to the top of the garage, and many other places to watch birds as part of their hunting instincts. They climb curtains because they saw a bug and chased after it. Or they saw a bird fly past the window and was trying to get a better look.
These things are part of a cat's nature and not something they do to make you upset. Cats are hunters and love to run, jump, pounce, and chase their prey. They are simply trying to adapt to life indoors. Therefore, they need a way to satisfy their need for physical activity with sturdy furniture made for that purpose.
Cat trees come in different shapes and sizes and offer kitty space all to him or herself. They can be free to climb, scratch, or indulge in some solitude for a little nap. They can be very tall for large cats to keep them entertained and save your furniture.
1. How do I pick a cat tree?
1.1 Questions to know before buying cat tree furniture:
When it comes to choosing cat tree furniture, there are a few questions that will help you narrow down the ones that will best suit your cat.
How many cats do you have?
Do they like to climb?
Do they scratch a lot?
Are they active and like to play a lot?
Do they like to hide in areas when sleeping?
1.2 Things to consider when buying cat tree furniture:
Capacity: Cats are territorial and want their own space. Make sure it will accommodate two cats. Choose a cat tree with twice as many perches as you have cats because some don't like to share.
Size: Are your cats big or little? Kittens could fall off of something tall so make sure it is appropriate for the size of your cat.
Stability: Can they jump and climb on it without it falling over? It should be wide at the base for support and be able to withstand your cat's playful energy without falling apart.
Construction materials: Sturdy wood construction is best. Solid wood cat tree furniture should be reinforced underneath with glue, screws, and metal fasteners to keep everything in place.
If you have more than one cat you'll want to get something that will be big enough to allow them room to run, jump and play and have a little condo or two to sleep in. Kitty condos are covered spaces on solid wood cat tree furniture that serve as a quiet place for a nap or as a hiding place for a game of tag.
1.3 What type of cat trees is suitable for kittens:
The height should be tall enough that your cat can climb and sit at the top. This is what they love to do, reach tall places, and then sit and overlook the area. This is also why they love to try and reach the tops of curtain rods although there is no place to sit there or perch.
Types of cat tree furniture for large cats:
Cat Condos: Cat condos are little carpeted cubbies for cats who like to sleep a lot.
Cat Perches: Perches are best for those who don't play a lot but like to climb things to get on top of them, such as curtains, etc.
Cat Towers: Towers are a combination of perches and condos for multiple styles of play. They are fit for active cats who like to run, jump, climb, and chase.
2. What is the best cat tree for large cats?
If you have large cats it is best to choose cat tree furniture for large cats that is solid and sturdy. It should have a wide base for support and be tall enough to accommodate two or more little condos and some hanging toys. Scratching areas are often on the support legs and are covered with twine or rope. Perchs at the top are perfect for climbers who like to sit up there and view their surroundings.
In short, cat tree furniture for large cats would have enough height for climbing, an area for scratching, and places to lay down and rest without their legs dangling over the side.
3. How long does cat tree furniture last?
That will depend on the cat and the quality of the wood cat tree furniture. It is like anything else you buy. If it's taken care of it should last a few years. If your cat is outside part of the time they are getting some of the energy out during outside play so their inside toys should last a while. Housebound cats are a little rougher on their toys because they don't have the ability to run and play outside and still have a lot of energy to get rid of before falling asleep. It could last 6 months or 6 years, depending on your cat and how well it is maintained.
Cats get bored easily and that is when most of the destruction is done to your household furnishing. A bored cat is one who is more likely to knock things over, chew on your plants, and shred your morning newspaper. Avoid this problem by offering ways for your cat to entertain themselves while you are away. Make sure they have toys that are theirs alone, plenty of freshwater and food, and a cozy place to take an afternoon nap. Sturdy solid wood cat tree furniture is a good choice for keeping your cat happy and entertained in a safe and engaging environment.