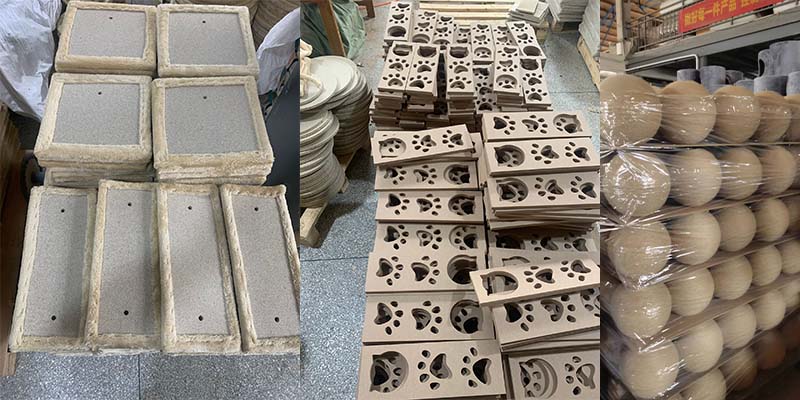 Why You Need A Reliable Cat Tree Tower Supplier?
When faced with a variety of cat tree options on the market, everyone's goal is to find quality cat trees. Before that, you need to find a reliable cat tree tower supplier, which is very important. The supplier will directly decide Whether the production of cat trees is professional and whether the material is safe. Of course, it also includes whether the transaction process is smooth and whether there is after-sales guarantee. Below I will specifically describe why you need to find a reliable cat tree supplier.
1.Quality Of Cat Tree Tower
1.1 Materials
In order to control costs and increase profits, many unqualified manufacturers will skimp on materials during production. This is undoubtedly a very bad thing. Therefore, you need to choose a reliable cat tree tower supplier to ensure that the cat tree you are about to buy use high-quality materials. So, what kind of material is considered high-quality? As a cat tree manufacturer with many years of experience, I would love to share my knowledge with you. Make sure you don't get "fooled" when choosing and purchasing.
1.1.1 About Wood
A cat tree tower using solid wood is far superior to MDF, particle board, etc. It does not have the problem of excessive formaldehyde and has better stability. Of course, you also need to check carefully when you receive samples or bulk shipments. Determine if your cat tree wood has signs of soaking or has moth-eaten defects. It's all about whether your cat tree is safe and secure.
1.1.2 Materials for Surface Covering
Do not buy cat trees with fur. Fur is cheap and doesn't last long. It doesn't attach well and the cat can easily pull the fur from the cat tree. So be careful to spot imitations using cheap fur, which can turn into a pile of rags after a few uses. Most good quality cat trees are covered with carpet. But you need to pay attention to whether the covered carpet is brand new. Used second-hand carpets may have numerous latent diseases, such as feline leukemia and ringworm.
1.2 Structure And Composition
In fact, many cat tree suppliers do not have the expertise required to make a quality cat tree. This is a very dangerous thing. A multi-level cat tree is not a simple combination of components. The overall stability needs to be considered, and whether such a design is practical for cats. Therefore, it is necessary to choose a reliable and experienced cat tree tower supplier to ensure the quality of cat trees.
1.2.1 Stability
For the stability of the cat tree tower, it is necessary to thicken and widen the base. Avoid being top-heavy and make sure the cat tree doesn't sway or tip over. Because if it scares the cat, it may never use the cat tree again. Or worse, injure the cat and the veterinarian's bill will be higher than the cost of buying quality cat trees.
1.2.2 Practicality
Many cat tree tower suppliers forget about practicality. Instead, make cat trees in a way that is easy to make but does nothing for cats. We need to consider what kind of cat tree we need from the cat's point of view. In other words, you need to make sure the cat tree tower has all the elements that will allow your cat to use it for years to come.
There is no doubt that sleeping is a cat's favorite time, regardless of age. Sleeping more than 16 hours takes up most of their day. It is therefore important to provide a place to rest in the cat tree. Examples include a plush padded perching platform or hammock, or a semi-enclosed cat house.
Satisfying the elements of scratching and climbing is also the key to choosing a cat tree. The multi-level structure will satisfy your cat's love of climbing, providing room to explore. Also including sisal scratching posts that provide scratching. Ideally, the cat tree will include hanging toys or something to flap. But it must be fastened firmly enough that it will not be easily damaged when your cat interacts and plays.
1.2.3 Combination Process
To save time or cut corners, some manufacturers use household staplers or worse glue to secure the rug or sisal. This way is not advisable. For one thing, being fastened to a base or wood in this way won't be strong. Glue, on the other hand, can be toxic and can affect a cat's paws scratching on sisal. At the same time, the wrong staples can endanger a cat's health through accidental swallowing.
2.Process Of Transaction
In addition to the quality of the cat tree itself, a reliable cat tree tower supplier can better avoid possible problems in the transaction. Ensure smooth transaction process and pleasant communication. Specifically reflected in the following aspects:
2.1 About Delivery
Reliable cat tree suppliers can ensure that the delivery quantity is consistent and the delivery time is accurate. This is important for the entire transaction process. In the long run, it can also ensure the stability and smoothness of the supply of goods. Keep your sales from being delayed due to out-of-stocks or other reasons. After all, explaining delays to your customers is a bad thing.
2.2 Quality Control
A good cat tree tower supplier will strictly control the quality of the cat tree produced. And carefully check repeatedly before shipment to ensure the stability of cat tree quality. Of course, if there is a problem with the cat tree, it can be solved in a timely and effective manner. Because the after-sales service of the reliable cat tree supplier is also perfect.
2.3 Long-term Cooperation
No one would expect the cooperation between the two parties to be a one-time transaction. Long-term cooperation is more time-saving and efficient. The two sides will also understand each other better and avoid problems due to communication. Therefore, it is very important to choose a good cat tree tower supplier. The coordination of various work and good cooperation have made the work of both parties proceed smoothly.
2.4 Cost-effective
The last is the price issue that is most important to purchasing. Buying a high-quality cat tree at the most affordable price is what everyone wants. If you look for a reliable cat tree tower supplier and cooperate with him for a long time. Then your cat tree products will be more competitive in price.
3. Conclusion
Now, I believe you already know the importance of choosing a reliable cat tree tower supplier. Especially when you are going to buy cat trees in bulk or looking for a long-term partner. Then you may be confused about how to choose a reliable cat tree supplier. You can click this link and we will provide you with a detailed introduction. As a cat tree manufacturer, we care about the safety and health of every cat. Hope you find a reliable supplier and high-quality cat tree.