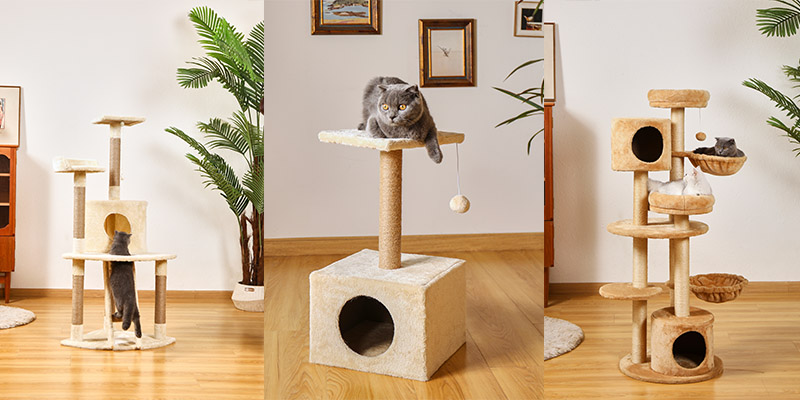 What Type Of Cat Tree Condo Is Better For Older Cats?
Just like us humans, as we age, our movements become sluggish. The same is true for cats, even they have shorter lifespans, and enter old age more quickly. This also means that they can no longer climb to the top of the cat tree they played with since childhood. Cats like to watch everything from a height. This habit does not change as they get older, although they can no longer easily climb high. So when you give your senior cat some easy and safe ways to get to the top of the cat tree condo, trust them to be happy.
1. Choice Of Cat Tree Condo Structure:
1.1 Provide Built-In Ramps:
Choosing a cat tree condo with a built-in ramp is a great option for your older cat. Satisfy its desire to reach the top of the multi-layer cat tree. For example, this cat tree scratching post with multi-level platform. Both cat apartments are accessible via built-in ramps so your older cat can curl up and take a nap inside. Apartments vary in size and height to give your cat more options. At the same time, the roof of the apartment acts as a point of support for reaching a nearby perch platform. So your cat can reach its destination easily and safely without having to jump significantly. Plus, some cat trees will cover the ramp with natural sisal, allowing your cat to sharpen its claws, killing two birds with one stone. This structure works equally well for cats with arthritis.
1.2 Close Perch Platform:
Choosing a compact cat tree to solve the problem of elderly cats is also a good channel. For example this cat tree tower with perches for indoor cats, all the platforms are very close to each other. Includes cat condo, hammock and top perch platform. This means that your older cat doesn't need to jump too hard to get from one perching platform to another. This attribute is very important when choosing the cat tree condo for older cats.
Multiple sleeping spots to accommodate a variety of nap preferences. Short plush lined apartments, comfortable hammocks and soft perches on top. It can provide comfort when your cat is trying to observe its surroundings or look through a window. Of course, if your cat doesn't want to climb to the top, it can also curl up in the cat condo on the first floor.
However, the compact structure may result in insufficient platform space on each floor, especially the perch platform at the top. This will undoubtedly make your old cat feel insecure. Older cats are less mobile, and limited space can make it difficult to move on them. So you should also take that into consideration when choosing a cat tree condo for your older cat. Your older cat will prefer more room to stretch and turn around. At the same time, having enough room to stand on four feet before climbing to the next level, they will consider that to be safe enough.
1.4 Lower The Height:
If you only have an elderly cat in your home, you can try lowering the height of the cat tree. Take the cat tree condo with two jumping platforms, which are about 28.8 inches tall. For older cats with limited mobility, the perches at the top can be easily reached. No need to jump or climb overly strenuous, but get enough exercise.
Meanwhile, for a low budget, this is the best cat tree condo for older cats in the range of options. This cat tree is structured and functional enough to serve as a recreational space for your cat. The cat condo at the bottom can be accessed without climbing. The plush perch platform on top allows your cat to enjoy the view out of the window in comfort. The plush ball hangs at the right height for your cat to interact and play with.
2. Available Space For Cat Tree Condo:
In addition to considering the structure of the cat tree condo itself to accommodate your aging cat, take other factors into consideration. Such as the size of your apartment and the number of cats in the house.
You need to consider the amount of space available in your home. Small cat trees can be easily installed under windows or in corners. It doesn't need to be fixed to the wall, and your cat can climb it without worrying about shaking. But large multi-story cat trees need a large enough space to place them. And for added stability, it usually needs to be fixed to the wall. Prevent it from shaking or falling when your cat climbs to higher floors. If you're a multi-cat household, consider picking out some sturdy big cat trees. But if you only have an elderly cat, then I think a small cat tree can also meet your demands. With the same material, it will be more stable. Older cats are more insecure because of their mobility problems. They are easily scared away by rickety surfaces or unstable habitats.
3. About Fees And Budget For Cat Tree Condo:
In addition to the issue of available space mentioned above, the price factor also needs to be considered. If you're on a budget, a large, versatile cat tree condo is an excellent choice. Large cat trees are fully functional and can meet the different needs of your cat. It will give your cat more pampering and happiness and keep your cat interested for a long time. Know that even in old age, your cat will retain a playful nature. For example this cat tree condo with sisal scratching board and hammock. Includes a ramp covered with sisal scratching boards, a hammock, a large space cat condo, a tunnel and large perch platform. Of course, there is also a hanging stuffed mouse and a hanging sisal rope near the platform. Provide a multi-functional place to play, climb and rest while taking into account the various needs of senior cats.
If you're concerned about the stability of your big cat tree, you can opt for higher-quality materials. As a factory producing cat trees, we recommend your solid particle board material. Compared with MDF as a base plate, it is better in terms of safety and stability. Most cat trees use MDF for price. But in fact, for large cat trees, this material is far from enough, and there are many restrictions on its use. Stability is an important factor you should consider when shopping for a cat tree condo for your older cat.