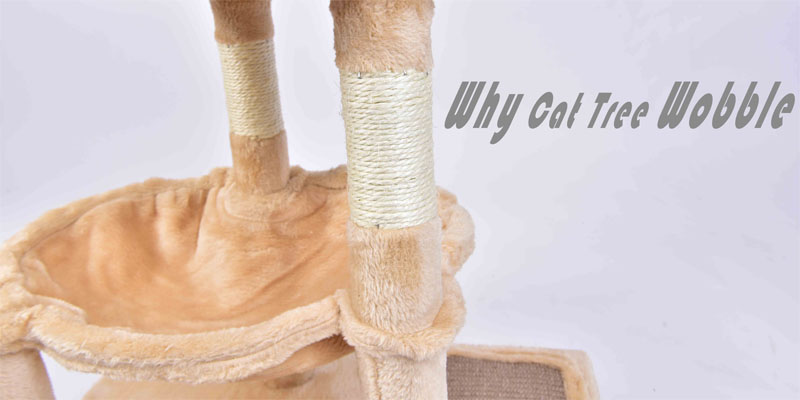 Does Your Cat Tree Wobble?
If you are a cat lover, then you know what a cat tree is? We also have a cat activity tree sometimes. It is a toy tree for cats to play with and exercise. Cats love to spend their time climbing, jumping and fondling the tree. For any cat lover, having a cat tree comes as a must-to-have. Cats are considered less-active animals. So, a cat tree provides an excellent way to make them more active and exercise regularly. However, many people face the issue of wobbling cat trees. If your cat tree wobbles, it can be dangerous for your cat. That's why it's crucial to check the stability of a cat tree before buying it. This blog will discuss how to buy a tree free from wobbling. You will also know why a wobbly cat tree can be dangerous for your pet.
1. Why is a wobbly cat tree not suitable for your cats?
A wobbly cat tree can be hazardous for your cat. Significantly, cat trees for large cats wobble a lot. This can cause their tripping or falling. Imagine your cat is playing on the tree, but it suddenly falls. Unfortunately, this can physically harm the cat also. Many cat owners complain about their cats tripping again and again from the cat activity trees. This also scares away your pet from the tree. Constant tripping can make the cat trees repelling for your pet.
Similarly, if your cat feels constant wobbling, then it might interrupt their play. Again, this can hinder their natural playing state, and they might not like it. In addition, cats quickly get irritated, so a wobbly tree can also result in a bad mood for your pet.
Also, if your cat tree constantly falls, it damages itself. No matter how expensive a cat tree you buy, its life span also decreases if it's wobbles and trips. When you are paying a handsome sum of money for the tree, you will expect it to last at least a good few years. Constant falling significantly damages the corners of the tree, which can cause scratches or injuries to your pet.
2. How big should a cat tree be?
The size of the cat trees for large cats and small cats matters a lot. If you buy a small cat tree, the chances are that it will wobble a lot. To avoid wobbling, always choose the size of your cat tree prudently. There are various sizes available in the market for your cat. You can find different sizes of multi-functional cat trees. There are several factors that you need to consider before selecting the size of your cat. Let's have a look at them;
2.1 Size of your cat
Your pet size matters the most while buying a cat tree. If your cat is small or just a baby right now, consider smaller cat trees. However, consider an enormous cat tree if you have a cat breed that grows bigger from the baby to the adult stage. Ensure that the platform is suitable for your cat to climb on it. Also, the platform should be appropriate for your cat to sleep on it. A bigger size cat tree for large active cats is suitable.
2.2 Place of set-up
Where are you going to put your cat tree? Consider this question before selecting the size. If you can dedicate a perfect space to your cat tree, then a big one is a great choice. But if you don't have enough space, going for the smaller one is better. Also, consider the number of cats you have. If you have more than one cat, buy an enormous cat tree that can easily accommodate two or more cats.
2.3 The personality of your cat
If your cat is peaceful and less active, try a medium or small cat tree. Just choose a simple cat tree with a good platform size. However, if it loves being active, choose a bigger, more spacious one. It will avoid the tree wobbling due to weight. You can also go for multi-functional cat trees for large active cats.
3. The ideal weight of the cat tree
The tree's weight also plays a crucial role in decreasing the wobbling of the cat tree. The ratio of the height and weight of the tree should be stabilized. A cat tree should weigh around 60 to 70 pounds for 70 inches. However, the material and the build also impact the weight. Don't choose materials like plastic, thick cardboard or metal. Always prefer hard and solid wood materials. But make sure you consider the weight of your cat also. Choose cat trees for large cats which can easily balance their weight even if kept on one side. This will decrease the chances of wobbling the tree.
4. Stability of the cat tree
The stability factor in a cat tree is a must consider before buying it. If you buy a cat tree for large active cats, make sure you choose a stable cat tree. The tree's base should have a larger surface area to stabilize it. The base does not just cause wobbling; the other tree parts can also cause it. That's why they should be fastened with the joints properly. You might need to move the cat tree to a different place. So make sure that the process of reassembling doesn't cause wear and tear to the cat tree.
5. Conclusion
A cat tree is a great tool to keep your pets involved in physical activities. It is also fun and exciting for them. However, the issue of wobbling in cat activity trees can cause adverse effects on the cat. So make sure you choose a solid wood cat tree for large cats. Also, choose a broader base. Finally, consider the size of your cat and its personality before buying a cat activity tree.