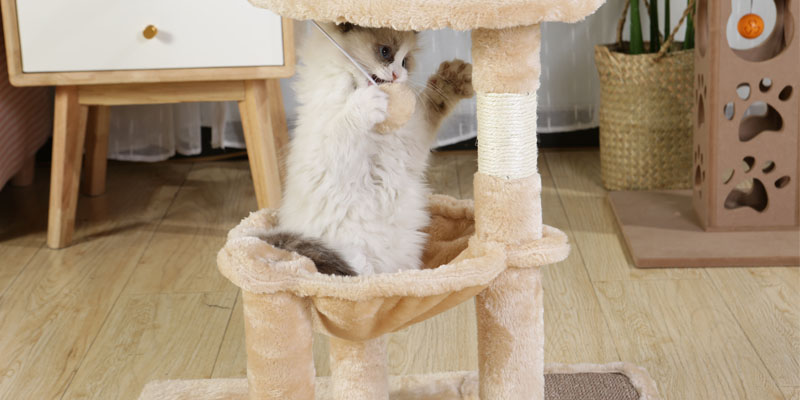 Why Are Cat Trees Expensive?
Every cat lover knows about the cat climbing tree. These are a great tool to keep your pets busy and physically active. Many cat people suggest that having a cat tree is essential for taking good care of your cat. However, cat trees also come very expensively. This creates a question of whether the investment in cat trees is worth it. If you are also thinking of buying a cat climbing tree, then this blog will help you understand all its aspects. Here, we will discuss why the cat trees are costly and do you buy them or not? Let's begin!
1. Why your cat needs a cat tree?
A cat climbing tree factory offers various types and sizes of trees. Cat people also love to pamper their cats with them. However, many people still wonder why their cats require a cat tree. You may think that your pet is enjoying its time generally on the ground or mat, then why put money into a cat tree. Let's answer it.
1.1 Better leisure time
Yes, your cat can play on the ground or a mat. However, it reduces the natural habitat feel for the animal. Your beloved pet is also a wild animal. They are destined to live in woods and forests on trees. So if you love your cats, then putting an effort to make them feel like home is not a bad idea. The cat climbing tree provides a good leisure time for your cat. It creates a replica of a tree habitat with its height, condo and passages. Your cat will indeed have a great playtime on it.
1.2 More physical activity
Cats are considered lazy animals. However, it is not valid. Some cats have calm and docile personalities, while some are very active. If appropriately stimulated, the cats also enjoy many physical activities. Regular physical activities are also essential for their healthy well-being. So if you are struggling with making your cat active, then a cat tree can help you.
1.3 Constricted area to play
If you are fed up with your cat roaming everywhere, a cat tree can be your saviour. We love your pets, but it is also tough to bear the constant clutter they make. That's why don't feel guilty if you want your cat to limit its reach in your home. Instead, you can set up a cat tree in a dedicated space for your cat. And it will spend hours enjoying its own company without creating clutter all over your house. So now you can focus on your tasks without worrying about getting your things scratched or messed up.
1.4 A good watch house
Installing a cat tree at home also provides a good watch area for your cat. It helps in keeping an eye on your cat while doing your work. You don't need to worry about getting hurt because you can easily watch what they are doing.
2. What is the cost of a cat tree?
Let's address the elephant of the room- the cost of the cat tree! Various cat climbing tree factories offer varying prices of cat trees. However, a decent quality cat tree with 2 or 3 platforms can cost around $100 to $200. The cost varies depending on the material, manufacturer, platform, space, cushioning, etc. Outsourcing from top-grade cat climbing tree wholesale and suppliers also enhances the cost. Depending on their features, they can go as high as $300. You may wonder why these cat trees cost so high? Then, please think of the different inputs in their production.
3. Why are cat trees expensive?
A cat tree is a large structure that requires a lot of volume of material. Similarly, the quality of materials also enhances its cost. Buying a cat tree with low-quality material should be avoided as it will only cost you money while not doing anything for your cat. Low-quality material can also cause wobbling, which is dangerous for your cat also. Choosing a high-grade cat tree also ensures its longer life span and durability. Before subjecting to customers, cat climbing tree suppliers also test them. This testing stage is resource consuming and requires a significant expenditure. Shipping and distribution fees also increase the cost of the cat trees. Cat climbing tree factories also add various ropes and perches for a better experience for your pet. This also adds up to the cost!
4. How to choose a good cat climbing tree?
When we discussed the cost of a good cat tree, let's see how you can choose the best one for your beloved pet! Here are a few factors that you need to consider;
4.1 Durable quality
Please don't go for plastics or cardboard materials as they will not last long. Instead, choose hardwood, which is sturdy and ensures longevity. Similarly, don't choose metal cat trees because the corners or inclinations might hurt your cat. Also, check that the cushioning of the cat tree is sturdy and soft and comfortable.
4.2 Ideal height
Choose the height of the cat tree as per your cat height. If you have a baby kitty, go for small to medium height. Also, remember that your baby kitty will grow soon into an adult, and you will need an enormous tree. So choosing a medium-sized cat tree since starting is better. Also, check whether your cat likes extended height or not.
4.3 Your pet preference
You are buying the tree for your cat. So make sure it is aligned to its preferences. For example, a calm cat will need a larger platform and a more straightforward cat tree. However, if your cat is active and loves physical activities, choose a tree with perches, ropes, etc.
5. Conclusion
Does a cat tree good for your cat? Yes! It helps in keeping them physically fit and active. The cost of the climbing tree can vary depending upon the material, quality and features. A cat climbing tree may be costly, but it is worth it! In addition, your cat will enjoy an exciting toy to play with.