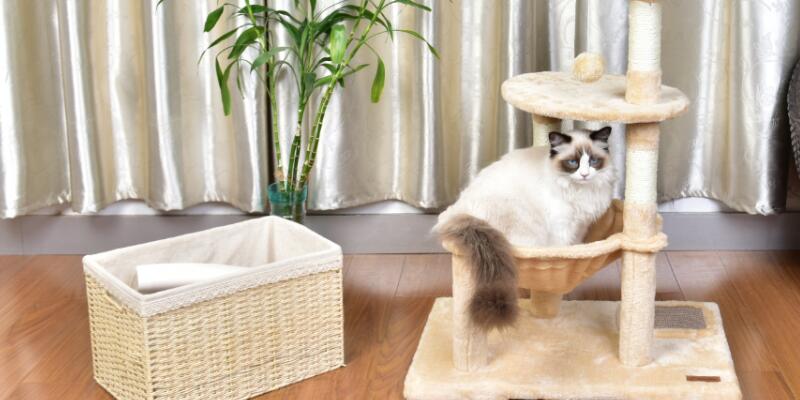 How Long Does a Cat Tree Last?
The life of a cat tree tower usually lasts from a few months to several years. It depends on the quality and the material of the tree. A wooden cat tree may last longer than cardboard or a fabric one. When choosing a durable cat tree, you need to pay attention to a few features.
1. Features of a durable cat tree
1.1 Sturdiness
Sturdiness is the most crucial factor to consider when purchasing a cat tree. A tree with a heavy base and stiff branches is ideal as it would be easy to climb upon and won't topple easily. A solid wooden tree roped with Sisal would not fall frequently, so there will be less breakage and will last longer than trees made of other materials.
1.2 Materials used
Like other objects, certain cat trees consist of harmful substances that can hinder their life and are disadvantageous for the cat. Organic and natural substances like cardboard, ropes, wood, and fabric are healthy for the cat and the tree. Ignore harmful chemicals like plastic, BPA, and formaldehyde used in some cat trees. In addition to harming the environment, these chemicals are also unattractive and not long-lasting.
1.3 Additional Features
Adding many toys, elements, and amenities might sound exciting for a cat, but too many goodies may cause a tree to wear out before expected. Your cat might get over-excited if there are too many playthings. The scratching area might get worn out, the toys might fall off, and some boxes may get damaged. It is best to keep the cat tree sober and creative. Like hitting two birds with one stone, you can keep your cat happy while increasing the durability of the cat tree.
Other aspects can be the personality and age of your cat. If your cat is energetic and lively, the cat tree might get worn out early. If your cat is docile and gentle, the activity done over the tree might be less, which can be favorable for the cat tree's age.
A young kitten can be over-excited while seeing new things and objects like a mice toy or a bird swing, and it can get hyperactive with the treehouse. An aged cat is patient and less excited about new things. The cat will take time to get frequented by the cat tree and will use it cautiously.
You should consult a cat tree supplier to understand what's beneficial for your cat, even if you're acquainted with cat trees.
2. Benefits of a cat tree
In addition to discussing the durability of a cat tree tower, it is also necessary to understand why you should invest in a cat tree.
2.1 A great way to be outside while being inside
Even though cats love nature, there might be circumstances that keep you from taking your cat out to explore. So installing a cat tree in your house helps your cat have the benefits of being outdoor while being at home.
2.2 An instrument of excitement
Cats have a moody personality and can get bored quickly, and a cat tree might be what it needs the most. Installation of playthings in the cat tree, like swings, slides, tunnels, toys, scratching posts, and resting places, make it exciting. It's an all-in-one package that your cat will always be happy and energetic and a great way to get your cat moving.
2.3 Marking territory
Cats are a part of the feline species. They love marking their territory by climbing on heights that animals inferior to them cannot. So, by buying a cat tree, you can also fulfill your cat's wild instincts and keep them satisfied in all ways.
2.4 Enhances hunting attributes
Cats are also predators. They love hunting rats, birds, squirrels, and other small animals. But lack of mobility can cause them to lose that ability, but with the help of a cat tree, it is possible to hone their hunting skills. A cat tree allows them a cat to do mind and muscle-related activities like jumping, crawling, climbing, pouncing, etc., which unleashes their hunting characteristics.
2.5 An appealing home decor item
A cat tree is worthwhile for a cat, but let's not forget that it's also eye-candy as a piece of furniture. Adding small plants and flowers, small figurines, baskets, and a splash of color can make it a cute furniture item worth showing to guests and friends.
3. Can you reuse a cat tree?
A wooden cat tree tower has the benefit of being repairable, reusable, and recyclable. You can get creative with the tree by adding colors that might excite your cat, replacing the old toys with new ones, carving unique designs on the tree, and turning it into a new cat tree condo.
A wooden cat tree is reusable at least one or two times. Trees made of other materials might be reused once or are not reusable. A tree cat tower supplier can replace your old cat tree with a new, cheaper one. If you're low on a paycheck and want to buy a cat tree, replacing it can also be an option.
Reusing a cat tree too many times can cause a risk of breakage, which can put your cat's safety in danger. So, it is better to replace the cat tree once in a few months, and if your cat is gentle and calm, replace it once a year.
4. What to do with old cat trees?
It is unnecessary to throw away old cat trees if you've bought a new one. There are creative DIYs that you can do with your old tree. You can make a wooden stand for the birds to rest, drink, and eat. It can be peaceful to watch your cat peering at the birds sitting on the bird stand created from the old cat tree. You can turn the cat tree into an eye-pleasing showcase for your garden. A cat tree supplier can also exchange your old cat tree for new toys or playthings for your cat, which might be a beneficial exchange. You can even donate your old cat tree to a friend or person looking to buy a cat tree.