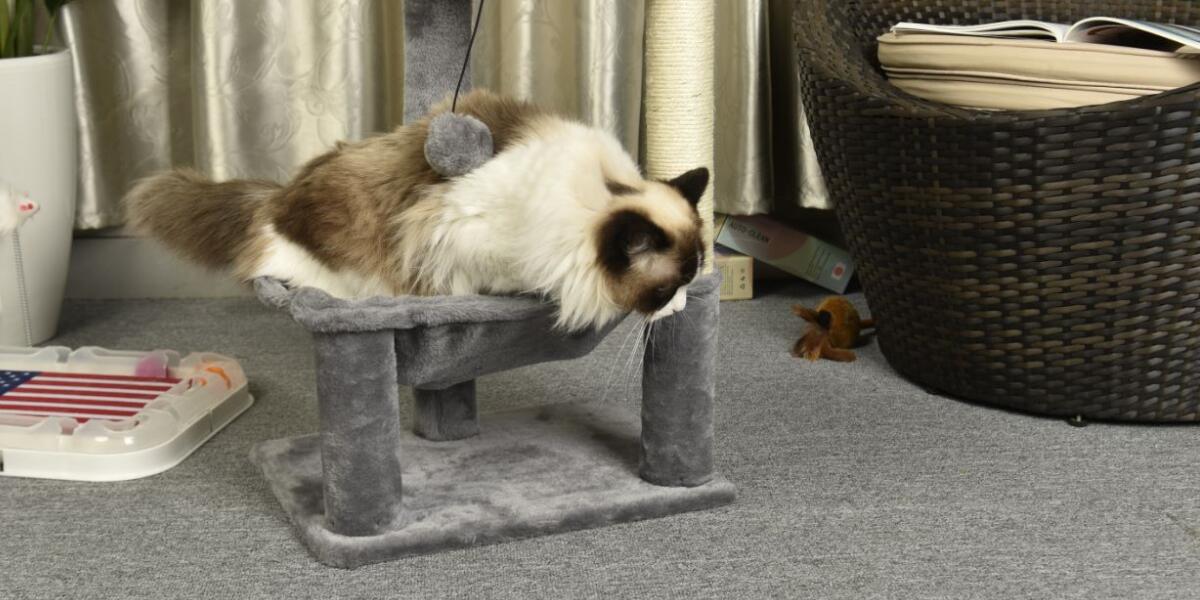 Which Cat Tree Is Suitable for Older Cats?
Every cat lover thinks of giving the best care to his cat. After all, they are one of their best friends or maybe sometimes just the only one. If you are also one of them and have come this far, you might be thinking of buying a Cat Tree Tower With Hammock. It is an excellent tool for keeping your cat engaged enjoyably. Especially if you have an old cat, then it becomes more functional. It helps your cat be more active, but it also helps them avoid certain diseases caused by increased age. If you want to know more about cat tree hammocks, you have come to the right place. This blog has talked about everything that you should know about a hammock for your old cat.
1. Are cat trees suitable for old cats?
In many cases, a Cat Tree Condo With Hammock And Scratching Posts is an excellent alternative since they feature numerous levels with varying scratching places, which is ideal for picky cats. One researcher discovered that cats who had a cat condo with hammock were less inclined to scratch elsewhere than cats who had other kinds of scratching posts! A young, energetic cat would most likely choose a tall, multi-level activity tree with various platforms, scratch surfaces, and hunting target toys to keep him occupied and entertained.
An elderly cat with limited mobility, on the other hand, would prefer something closer to the ground, with no high platforms or anything demanding extreme agility. An elderly cat still needs stimulation and might benefit from some hanging mice, balls, or bells to engage in some playful interaction.
It's also essential to think about whether your cat will stay inside or venture outdoors.
It is common for some cats to prefer to conceal themselves or examine their surroundings from a high perch, away from the noise and bustle of human life. Remember to take this into mind while selecting a hammock for cat tree, since there are various options available that include hideyholes and elevated platforms.
2. Are cat trees safe for senior cats?
There are several changes in a cat's physiology, behavior, and susceptibility to certain diseases that occur as the cat ages. Physiological changes include a decreased capacity to smell and taste food, a decreased ability to digest fat and protein, a decreased ability to hear, a decreased ability to maintain skin suppleness, and a decreased ability to tolerate stress.
As cats get older, their behavior changes as well, frequently as a direct consequence of the physiological changes that are taking place in their bodies. Because the senior cat adjusts gradually to these changes, they are often difficult to detect unless you primarily seek aging indications. Older cats hunt less, spend less time outdoors, are less active, and sleep for longer periods than younger cats. They may have a decreased or picky eating, be less interested in playing or grooming and be more outspoken in their communication. They also tend to grow more insecure, which might lead to them being more reliant on you.
Essential Features of cat tree for Older Cats
It's no surprise that cats like heights since it offers them the sensation of being concealed while yet being able to view everything around them—the ideal posture for a predatory animal. They are very fond of vertical space.
So your senior cat will continue to have difficulty getting onto the bed or couch while rejecting the perfectly fine cat bed you have placed on the floor for her comfort. If you want to provide an older cat with the sensation of a higher perch or to assist them in getting up to their favorite elevated spots, such as the window ledge, stairs, trees, and other senior-friendly cat furniture are ideal possibilities.
3. What To Look For In A Senior Cat Tree?
Safety:
Help an investment in a cat condo with hammock that will make your elderly cat feel secure and protected. They need a safe sanctuary where they can scratch, sleep, rest, and feel protected. The hammock for cat tree should provide them with that.
Material:
The majority of cat tree hammock are made of soft, cushioned plush material to ensure your feline friend's comfort.
Your senior cat will spend more time resting on the porch, so make sure that the hammock for cat tree is made of high-quality materials that will survive for a long period.
Verify that all of the sleeping spaces on the hammock, including the interior of the home and all of the lounging Cat Tree Condo With Hammock And Scratching Posts, which are in good condition.
Supportive:
Check everything before making your purchase, including the sort of wood or steel that was used in the building of the furniture's foundation, to ensure that you get the best deal possible.
If you have more than one cat, you'll want to be sure that the furniture is sturdy enough to handle its combined weight.
Ramps:
The act of jumping on furniture and other high locations consumes a lot of energy in cats. While you may expect your senior cat to continue to enjoy jumping, he or she will not be able to leap as high as he or she did when they were younger.
Senior cats may suffer from aching joints as a result of arthritis or other medical conditions.

Scratch Post:
Even elderly cats like sharpening their claws, which is why they are so popular among felines. Opt for one that is constructed from sisal rope or another long-lasting substance. This will help to keep the post from getting ragged as fast as possible.
Multi-Functional cat tree hammock
In addition to a fun climbing ladder, a roomy apartment, a hanging hammock, two perch platforms, and an interactive cat toy, this cat tree hammock comes with a hanging hammock. Cats will find it simple to scratch, climb, sleep, and play in this multi-layered structure. Allowing your cat lots of space to walk about and explore can help to keep your cat happy and healthy. Certainly, this Cat Tree Tower With Scratching Posts And Perch Hammock is excellent for small to medium-sized cats.
A set of many scratching posts wrapped in natural sisal rope, excellent for your feline's scratching and clawing needs. Satisfy the cat's instincts and he will quit clawing your expensive furnishings. At the same time, this will help to build a pleasant scratching habit in cats, which will prevent them from feeling anxious or lonely. The cozy and large semi-enclosed cat tree with hammock is the ideal location for your sensitive cat to relax and appreciate the peace it affords them. The raised sides of the top perch satisfy your cat's urge to stare out the window and take in the sunshine throughout the day.
Conclusion
Indoor cats need a Round Cat Tree Tower With Hammock. If you don't give them a safe spot to scratch, there's a strong possibility they'll start scratching up other things in your home as well. Because scratching posts are so good for your cat's physical and mental health, we strongly advise you to consider adding one cat tree hammock to your house as soon as possible. If you happen to have a young, lively cat, select the largest tree you can fit in your yard – they will thank you for it!