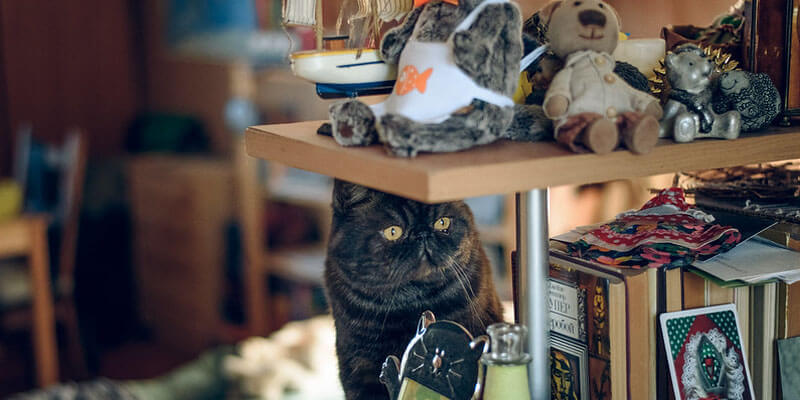 The Best Custom Tree House For Your Cat
Pets hold a magical power that can turn any ordinary house into a loving one. Nothing beats the feeling of being cuddled into bed with your kitty on a warm, cosy evening. With your cat meeting all your emotional needs, have you ever wondered, are you meeting theirs?
Cats are natural climbers and scratchers. Some of this instinctive behaviour remain even after domestication. If you are trying to make your cat feel at home, cat trees are your solution.
So, without further ado, let's talk about how you can find the best cat tree for your little kitty.
What are Cat Trees?
Cat trees or cat tree houses are specially designed living areas for your pet cats. They can be kept indoors or outdoors, but in most cases, they are built for indoor purposes. A variety of materials are used to make custom cat tree houses ranging from lightwood to heavy granite.
Cat trees also vary in size from large ones in the living room that overlook sofa sets to small structures that are often mistaken for indoor decorative fountains!
If you haven't heard of cat trees before, it's probably because they go by several different names as well, including cat condo, kitty condo, cat stand, cat post, and cat tower. All of these provide your cat with personal space to sleep, eat, play, do fun activities, and exercise.
If you own a pet cat who means the world to you, then you should definitely invest in a custom cat tree house. After all, your cat deserves more than just a petty cat box to spend their days in.
Different types of Cat Trees
As we've mentioned, cat trees differ largely in size and structure. While there are hundreds of variants, it's hard to list them all. However, here are some versatile cat trees worth checking out:
Tower Cat Tree
True to its name, tower cat trees are vertical in structure and stand pretty tall. They contain many floors and levels with clever ways to climb up and down. These can be in the form of simple steps, flat boards, or miniature stairs. Tower cat trees are distinctive in design by the many pillars contained in their structure. The pillars, levels, and towers give it a complex and interesting outlook.
Multi-level Condo Cat Tree
If you have immense love for everything feline and happen to own multiple cats, this is the best cat tree for you. This is a multileveled cat tree that can accommodate several cats with ease while giving them ample amount of space to play and scratch around. It comprises of several caves, pillars, and resting spots.
Cat Scratch Post
These cat trees are so simplistic that it's better to categorise them as sleeper posts. This tree comprises of a pole or two that hold up cosy and comfortable sleeping couches. These treehouses are more suitable for large cats, for whom typical cat houses are not spacious enough. They are also inexpensive despite their chic design.
Floor-to-ceiling Cat Tree
These are the tallest type of cat trees. Usually, they are simple in structure and comprise of neat levels and platforms that are attached to one single post. They also look stylish and modern and can be used as an additional piece of furniture that looks elegant enough to even blend in your interior!
What to look for in the Best Cat Trees?
Before purchasing the best cat tree that meets your needs, you should ensure it meets certain criteria. The size and shape are important factors. The size of your room and your cat are deciding factors in this case. The alignment also matters as horizontal cat trees take up more space than vertical ones.
The next important thing to ensure is the facility it provides. This encompasses the toys, design, appearance, and spots for resting and scratching. Make sure your furry friend has ample amount of space to do all these activities comfortably.
Custom Cat Tree House
If you want to add a personal touch, you can make one custom cat tree house all by yourself. As a bonus, you can personalize and customize it according to your preferences. Seeing a few tutorials online and asking for help and recommendations from people who have done this task before is enough get you started.
But if that's too time-consuming for you, there are a lot of options on the market. For instance, here's an amazing cat tree house from Petellow that you must check out! This custom cat tree house has a very unique look and even features a tent! Your cat will absolutely love the privacy. It's comfortable, fashionable and also within your targeted budget. This customised cat tree house is an all-in-one product that serves all your cat's needs at once.
Why Invest in a Cat Tree House?
We often forget that while we have a lot of people to interact with us on a daily basis, for your cat, you're their whole world. We spend a good amount of time at work while our cats remain at home all day, waiting for us to get back.
Cats are curious creatures and love exploring and playing. Long stretches of alone time may even result in depression. Getting a cat tree house will keep them busy and even save your furniture and couches from scratches and tears.
So, if you have a furry buddy at home that you love like your own child, you should invest in what is best for them. A custom cat tree house is one of those things. It will give your cat a place to rest, play, scratch, and lounge in a fun and playful manner.
To get a headstart with your purchase, check out this amazing custom cat tree house.