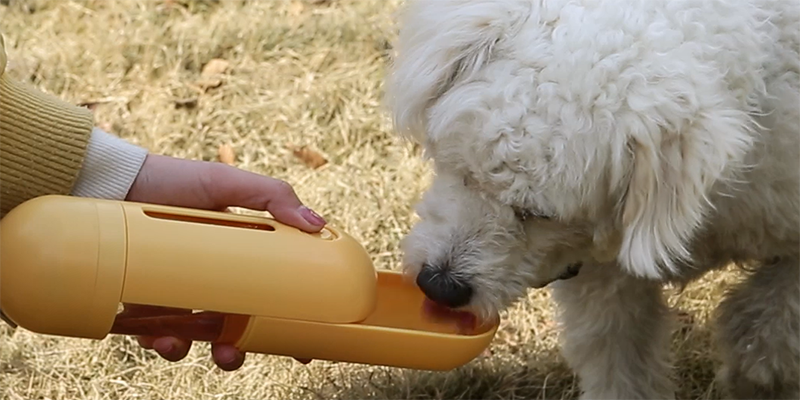 Why Do Your Dogs Need Dog Water Bottles for Walking?
Your dogs aren't your family yet if you are still letting them drink water from any source they find. Now, just think about it. How do you know if the water is safe or not? While on trips, hikes and even during walks in the dog parks, what happens when your dog is thirsty? It goes to the nearby pond or puddle and drinks highly contaminated water. The result is a deteriorated health. This is where you need a dog water bottle for walking.
These water bottles are perfectly designed to help you maintain your dog's hygiene even when you are on trips or outings. If you think the areas having special dog bowls would be appropriate, then you are probably wrong. These bowls can be dirty as other dogs might have urinated in them, so you must ensure your dog's hygiene and keep them healthy. In this article, you are going to find some very important aspects about hygienic drinking habits for your dog.
Why Pond Or Puddle Water is Not Safe For Your Dogs?
You must be thinking that your dog usually enjoys it when he gets the chance to drink from a puddle. It's not just with dogs but all the animals enjoy drinking water from an open-source of water. However, that won't reduce the risk of getting bacterial infections. The water found in the puddle has numerous unfriendly bacterias along with toxins, bugs and many more contaminants.
Even the water available in the lakes and ponds is not safe due to bugs that make it their home. Further, stagnant water lakes also have toxic algae that makes it more harmful for your adorable pet. It doesn't matter what colour algae it is, any colour would be harmful to your creature. As a precautionary measure, do look for red, blue, brown, green and purple algae. They are most detrimental.
Considering rainwater, it might seem that it's completely safe for drinking. Although, it's actually not. There can be possibilities that rainwater stored in galvanized containers would become toxic. It's because these containers are coated with zinc that might affect your dog or cat's health. Choosing a safe water bottle for dog walks would be nice to avoid such issues.
What Can Be The Consequences of My Pet Drinking Dirty Water?
Not using a dog water bottle for walking and allowing your dogs to drink water from any contaminated source can result in various conditions. These conditions can be quite serious, which is why you need to maintain exceptional precautions. One of the most common conditions includes Leptospira, which is a bacterial infection caused due to Spirochetes bacteria. The animals who are already infected can contaminate the water by urinating in it. The bacteria would further spread within the animal by burrowing within the mucous membranes or via an open wound. This will allow the bacteria to reach sensitive organs of the body including the liver and kidney.
Dogs have a higher capacity to develop this condition as they quite often use contaminated water, especially the ones infested with other animal's urine. Animals usually develop this condition by drinking or simply playing in water found in ponds, puddles, waterlogged soil and bogs. Leptospira could infect your dog with sickness or diseases. There can be various conditions associated with it, including,
Giardia
Cryptosporidium
E.coli
Esophageal Dysfunction.
A dog walking water bottle is the right and significant way to mitigate the risks of getting your dog ill.
Why Are Water Bottle For Dog Walks Useful?
Before you move to explore why a dog walking water bottle is necessary, it's important to know that there is a difference between water bottle for dog walks and normal drinking bottles for humans. The water bottles for dogs have different designs that suit the drinking style of the dogs. Some might come with an attached bowl or a unique adapter to make it easy for the dog to drink the water. Now, let's check out the benefits,
Dog water bottles are highly suitable because they maintain the hydration level of your dogs while allowing them to have a hygienic drinking method. Moreover, these water bottles are leak-resistant, so you don't have to worry about any kind of leaking.
Furthermore, these dog water bottles can be easily carried for long walks. You don't have to get into any hassle of carrying collapsible bowls. Their unique design ensures that the dog drinks the water without spilling it outside.
The best part about these water bottles is that you can easily attach them to the crate of the dog. Also, it makes it quite easy and fast for your dogs to drink the water.
One of the most convenient aspects of these bottles is that they are portable and depending on the company, these can be extremely durable while being lightweight.
Dogs can also play with them as they are hassle-free and quite simple to use.
Different dog water bottles have different kinds of lids that not just enhance the looks but also the utility.
If you are looking for a very trendy option, then go check out Leak Proof Portable Dog Water Bottle Dispenser and 2 in 1 Dog water bottle for walking outdoors from Petellow. These bottles are trendy and extremely useful for your dogs.
How To Make Your Dogs Use a Dog Walking Water Bottle?
You can either use a pet adaptor or a standard water bottle to let your dog learn how to drink from a water bottle. These bottles have buttons or balls in the centre so that water comes out only when the dog licks the centre part or either you push the button. There can be other water bottles too, which have different functions.
The first thing you need to do is adjust the water bottle to suit to drinking ability of the dog.
You need to adjust the flow of the water beginning from a light flow if your dog is not much familiar with it.
If your dog tries to resist the bottle, then use the peanut's essence on the bottle and he would grab it. You can also add something of their liking.
That was all about a dog water bottle for walking. You must take care of your dog's hygiene, especially when it comes to their drinking and eating habits. Having a dog walking water bottle is the perfect idea to ensure no contaminated elements are being exposed to your lovely pet.