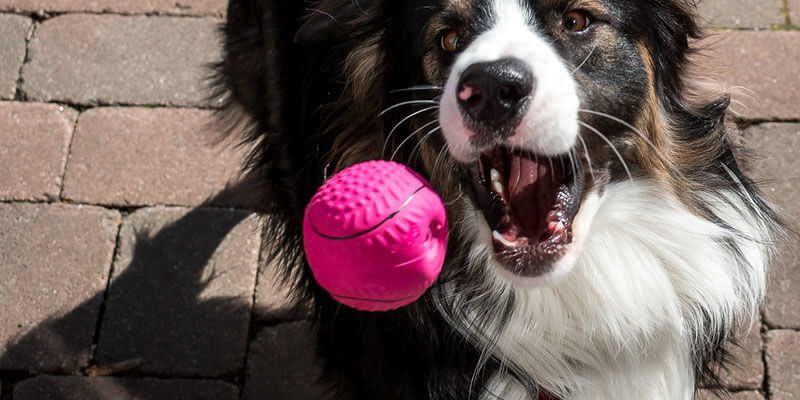 The Squeaky Dog Toys for Your Dog's Optimum Health
If you have dogs as your pet, you know how faithful and amazing animals they are. Dogs are man's best friend, no matter what. How can someone ignore those big eyes filled with love and warmth? Having a pet dog automatically makes your home a more welcoming and lovable one.
But how do you keep the dogs entertained? Taking them out for walks and hikes are great, but you need something to keep them entertained and healthy indoors as well. That's where squeaky dog toys come into play.
How do the Dog Squeaky Toys Work?
Squeak is one of the most favourite sounds for dogs. It's engaging, it's interactive. The principle that works behind is very simple. There is a squeaker installed in the toy. So, whenever your dog bites it, the air is pushed through the squeaker. As a result, you hear a squeak or a whistle. It's usually a high pitched sound.
Different Types of Squeaky Dog Toys
Dog toys usually come in various sizes and shapes. Each of them has a different purpose as well. Squeaky dog toys balls are some of the most commonly found toys that work like charm. In today's post, we'll look at some of such toys that you can get your cute four-legged friend.
Interactive Squeaky Dog Toys
Interactive toys are the best of the bunch. Interactive toys actively engage your dog in an activity so it gets the excitement and exercise at the same time. The Interactive Treating Ball from Petellow is an amazing example of such toys.
It's about 7 and a half inches and weighs around 150 grams. It's made from TPR so you can rest assured that it's safe, non-toxic, and very resistant to biting. It's an effective dental cleaning toy with multiple holes on the surface. These balls are another great example of interactive squeaky dog toys.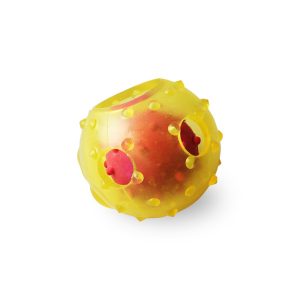 You can put treats inside this squeaky dog toy and play catch with your pet. Every time it bites that ball, food will come out while simultaneously cleaning its teeth to prevent plaque and tartar. It will strengthen the chin of the dog at the same time. These squeaky dog toys balls are very bright in colour which makes them interesting in the eyes of the dogs.
Sounding Dog Chew Toy with Small Bell
How about some squeaky dog toys with small bells inside? The sound of the bell adds to the fun. It's a rubber toy with very high resistance to biting. These toys are very colourful and bright which is essential to keep the dogs engaged.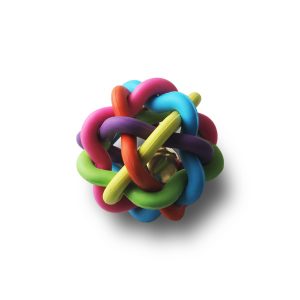 These squeaky dog toys balls come in different sizes. So, you can choose one that fits the needs of your dog. It also helps in cleaning the mouth of the dog. It's a great toy to keep your dogs entertained and keeping it from ruining your furniture.
Indestructible Squeaky Dog Toys
Indestructible? Really? Yes, these squeaky dog toys balls from Petellow are really indestructible! These balls come in three different colours and they are blue, rose red, and yellow. It's made of TPR which is extremely safe and tough material for a squeaky toy. There are basketball-shaped balls as well that serves the same purpose!
The outlook of the toy should be enough to portray its durability. It has a texture that dogs love to bite. It has very high biting resistance. The squeak is there to attract the dog. As it's one of those indestructible squeaky dog toys balls, it's going to last for a very long time. And a long-time friend means a happier dog.
Special Sounding Squeaky Dog Toys Balls
If you want your dogs to develop a sense of sound, these balls are your best options. Training dogs is one of the most heartwarming and fun activities you can do. And a special sounding chewing ball can help you in this regard.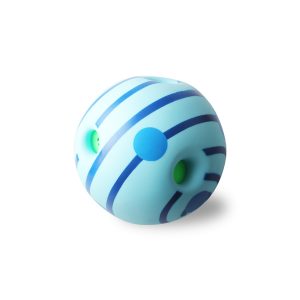 The ball comes in two different sizes where you can choose the size that fits your dog. It has high biting resistance and a unique BBB sound. The sound is enough to keep your dog entertained. You can use the surprise to train him to do any activity.
With help from these squeaky dog toys balls, your dogs will never feel alone. Even if you're busy, you can leave your dog with these toys to have fun while you work.
Plain Rubber Squeaky Dog Toys
Rubber toys are one of the most common squeaky toys for pet owners. These balls don't have any fancy design or texture on them. The texture you see is pretty basic but it does the job very well. The squeak engages your dogs in healthy activities like playing fetch. The dogs can have fun on their own as well with these squeaky dog toys balls.
How to Clean Dog Toys
Cleaning these rubber toys for your dogs is a very easy and straightforward process. All you need is a 5% vinegar and warm water solution. Soak the toys in the solution for 10-15 minutes. Once it's soaked, use a sponge or an old toothbrush to remove the dirt.
Once it looks clean, rinse the toys with clean water properly. It's best if you dry them in the sun. Once the squeaky dog toys balls are washed and dried, return them to your pet.
Why It's Important
Dogs are really faithful and attached animals. They like to play with humans and they like to bond with humans. But their mental health needs care as well. Most breeds of dogs need regular exercise and activities to keep healthy.
That's where the squeaky do toys come in. These toys are designed to help dogs follow their instincts. Jumping around and hunting the squeaky toys helps release the built-up energy which is very important to keep the dogs in a good mental state.
Take Away
Squeaky dog toys are a very affordable and easy way to make your dog's day. With all the love they give you, you can at least buy them some squeaky balls to play around and have some fun. Check out our website to find more about pet toys.