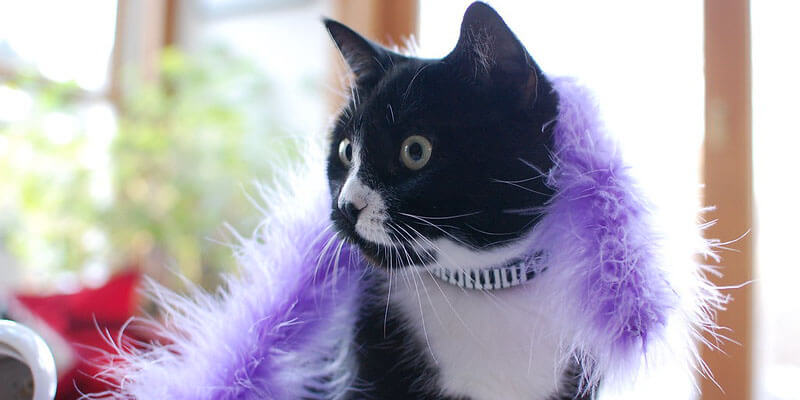 How to Choose Safe Cat Toys?
As all cats parents know that cats are inborn hunters.  They like hunting, chasing, catching and chewing.  This is one of the most important reasons that cat parents would like to prepare some different toys for them. On the other hand, cats are adorable when they play with those toys.  So, here comes the question. Are the toys you prepared for them safe? What is a safe cat toy? In our opinion, a safe toy should be made from non-hazardous material; could not be swallowed by cats; could not be broken by their teeth or paws etc.  There are some tips for cats parents to choose safe cat toys.
Do not choose a toy that can be swallowed by cats
Cat may use their mouth to bite, tear, chew, and carry toys. Some daily used items can be a cat toy, such as button, bottle cap, beads, paper clip etc. They are too small can be swallowed by cats easily. Parents should avoid them and keep them away from the cats. Please do not buy cat toy will small accessories as well since cat may bite and swallow.
Avoid toys that may tangle the cats
Ribbons, strings, hair bands, yard balls etc are also attractive to cats.  However, these things may cause cats to be tangled or trapped. Remove them from cats or give them to play with under the supervision of cat parents. Please do not leave those dangerous toys to cats alone.
Choose machine washable stuff toys thatare suitable for children under 3 years old
Stuff toys are preferred by cats but we have to keep the toys clean. Generally speaking, the machine washable toys are more durable. They could not be torn apart. And, machine washable toys may save parent's time and effort to clean them. The toys with label stated suitable for children under 3 years old proof that the toy do not have hazardous materials. Those are safe to cats as well.
Hereby we would like to recommend some safe cat toys.
Interactive cat toys
1.Baseball-Court Series Cat Toy For Play And Rest In It
The general features that are attractive to cats are included in this toy, running balls, tunnel, waggling spring with stuff ball etc. Scratch board is integrated as well. Underneath the board is a soft and custom printed surface that cats can also take a nap on it. It is a 3-in-1 cat toy. One thing more, the cat parents can DIY the tunnels to different shapes when they have time to play with the cats.  The baseball-court pattern can also be customized to basketball, football, happy birthday or even a picture of your cat. It is an interactive toy for cats and the parents.
 2. Electronic Food Leakage Cat Toy In a Whale Shape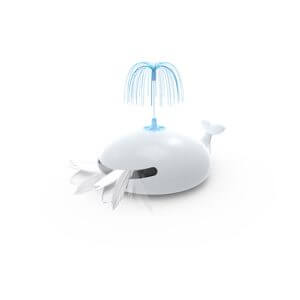 It is a great idea of food leakage cat toy. Cat food will be leaked while the whale moving, powered by batteries. Moving routine of whale is not straight. The cats cannot figure out the direction of whale and they can only follow it. Feather in the whale mouth will be reciprocating from left to right once it is switched on for the cat to chase and try to catch it. It is a perfect combination of food leakage and chasing toy.  The whale design itself is also very cute.
3.Intelligent Food Leakage Cat Toy With Track Balls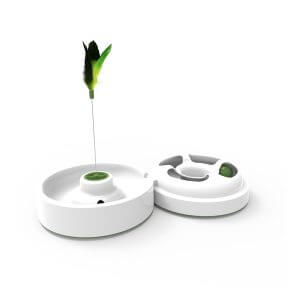 Have you ever seen such a cat toy that will train cats to get food? The right half is a cat track balls toy. When the cats play with the ball rolling to a specific point, food will be triggered and leaked out from the hole on the left half. After several rounds of play, the cats may know if they play with the track balls, they can be rewarded with food.  Feather in the middle can also be swinging to play with.  Their interests to this intelligent food leakage toy will last a longer time. Tracking the ball, moving back and forth from right to left and playing with the feather will increase exercise to the cats.
Cozy cat toys
1.Easy-assemble Cozy Cat Bed With Yarn Balls Cat Toys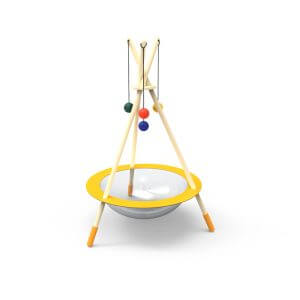 Parents would like to provide cats comfortable beds. You may have been bored with those flat fabric cat beds and looking for something unique. Look at the luxury transparent dome with artificial fur tent. You will find that your cat looks like a noble when they crouch inside. They can wave their legs to play with the yarn balls just on their beds. This is really a kingly leisurely life. Last but not the least, this cat bed is easy to be assembled and disassembled even without a tinny screw. The cushion can be changed to any other color or design effortless.
2. Custom Cat Tree Scratching Post Tower With Tent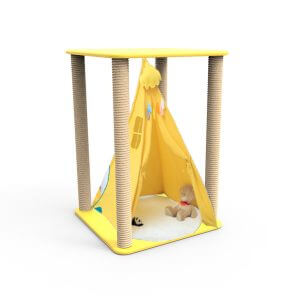 This is not a simple cat toy actually. In fact, it is a cat tree with tent. The inborn hunter should be a good hider as well. Cats like to crawl into caves, cartons and bags etc. because they are curious and seeking prey. The tent is something that they will love where they can get into it hiding them and watching things undergoing outside. When they feel tired, take a nap right away!  They may also jump up to the 2nd floor to occupying the commanding point. Do not forget the scratching poles are always helpfully and necessary for them.
3. Cat Nip
Cat nip may not be effective to all cats but most cats could not refuse it. This you will know when your kitten growing up to 3 to 6 months.  The flavor of cat nip can eases cats' anxiety and makes them calm down. Don't want your cat to be a fatty? Add a little cat nip to a safe cat toy and give it to the cat, they will play again and again to burn calories. Don't worry if your cat eats some cat nip. Cat nip helps digestion as well. It will relieve flatulency and stomachache. It is better not to use cat nip to your cat before age 6 months. Many researched approve that cat nip is safe to cats.