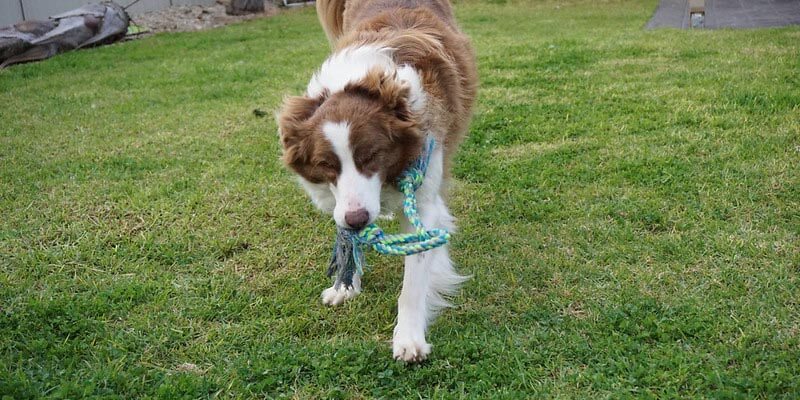 Are Dog Rope Toys Good for Dogs?
You must be looking for dog rope toys if you have a dog that loves to chew. Dog rope toys are a necessity for some dogs but can be dangerous at the same time. It depends on how you choose one for your dog.
The dog is a real member of the family, which also has to spend money. In addition to food and ammunition, another budget item is laid in the monthly budget – toys. It would seem that such a trifle, but prolongs the life of your pet for six months or even a whole year. According to experts, it is high-quality toys and constant active games with the pet that allow him to always be in good shape and, importantly, to keep his teeth and gums healthy for many years.
Being an owner, you should take pet care into account. You should know what you are giving to your dog.
Benefits of Rope Toys for Dogs
Your dog has some chewing needs, and dog rope toys are the toys they will love to chew. So, yes, they can be helpful to fulfill their chewing needs on dog rope toys instead of your home furniture, shoes or other items.
Most of the Dog rope toys are made especially for pet care purposes. They are made up of fine threads that can help to clean the dog's teeth.
You can divert your dog's chewing needs to something beneficial. When they are puppies, they have to chew things. And if you have a beautiful dog rope toy, they will never go for your boring furniture or shoes.
Many dog rope toys, if they get dirty, are tough to clean. But in this case, rope toys are washable. Thus you would have full control over your pet's hygiene.
You can use the rope for different purposes at different times. Like, if your dog wants to play, these dog rope toys can be beneficial. You can also give the rope toy to your dog when he is in a bad mode. They love to chew at that time.
So, if you want your dog to have clean teeth and you want your furniture to be as new as you bought, then these dog rope toys are the best way to go.
Dangers of chewing rope toys
It can be harmful to dog's physical health if you were not to clean the dirty rope toys. And the first aid and immediate medical care can help you to overcome the issue.
If your dog swallowed a long piece of rope, it can be very dangerous. It has been reported that immediate deaths have occurred before. the better situation is that it swallowed a short piece of rope, then a high ticket long surgery can save its life. But that is also a painful process.
Half of the rope toy reaches the stomach level and remains stuck there. The other half makes its way to the intestines. And as the digestive system tries to pass that, it makes the condition even worse. The intestine becomes a tight ball.
This can do permanent damage to the intestines, and even after surgery and complete removal of the rope, your dog will face some severe damage to the intestine walls for a lifetime.
Besides that, if your dog plucked and swallowed only a single rope from the dog rope toy, it may cause the same but lighter hazards.
Pet care is needed
You are by their side when your dogs are playing. This is the most crucial and easy pet care step to follow.
Find a durable yet soft dog rope toy that can be helpful without any dangers to your dog. You can see some handpicked dog rope toys here. ( you can interlink the last section here)
Always have pet care first aid at your home. Not only the rope toys, but other toys and things around you can be harmful to your dog. You must have a first aid kit at your home. And don't forget to get initial training regarding pet care online.
Explore the best dog rope toys
As you have read above, the dog rope toys can be beneficial yet dangerous for your pet. To solve your problem, we have handpicked some of the finest and safest dog rope toys for you. Just explore and have a look.
1. XL Size Dog Rope Toys With TPR for Large Dog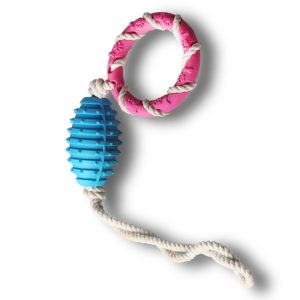 Got a big dog? Here is the toy for a big boy. This is the best and most durable rope toy for a big dog. If your dog easily tore the smaller toys, you should consider this one.
2.Indestructible Tug Toy for Strong Large Dogs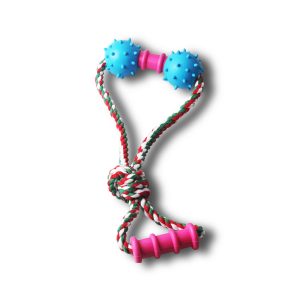 Here comes another sturdy toy for robust dogs. But for the safety of your dog, you can also purchase them for your smaller but stronger dogs. Its colors attract dogs, so they forget about your dull furniture and smelly shows.
3.TPR and Knot Rope Dog Bite Toy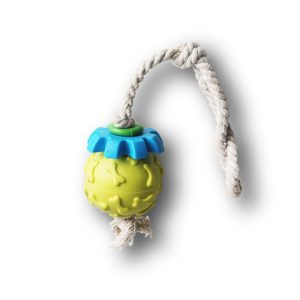 This is a small yet durable rope toy for your dog. You can buy this one with confidence. But please note that this is not for big healthy dogs.
Conclusion
Dog rope toys are one of the best toys for fulfilling your dog's chewing needs, protecting your house items, and cleaning its teeth. But they can be dangerous if you will not pick the right dog rope toy. A wrong purchase can even cause the death of your dog. Always get a durable dog rope toy.