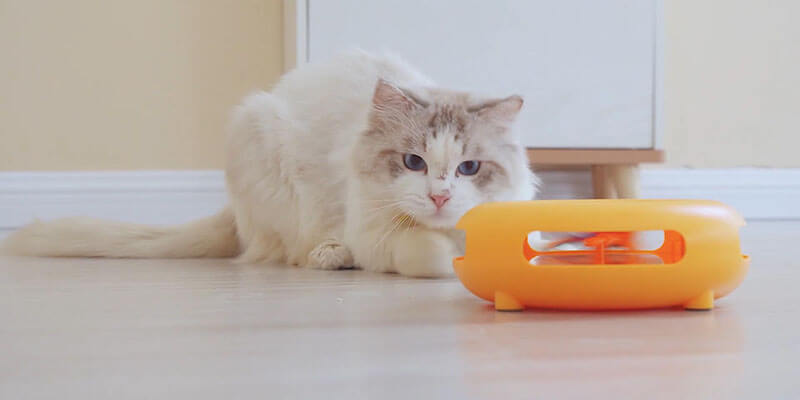 The Best Intelligent Cat Toy To Keep Your Kitty Entertained!
Just like us, our pets also require attention and entertainment round the clock. After all, they too are living beings with life. Seeing your cat lounge around all day, you may think they're just lazy and sluggish in nature. But, have you ever wondered why they are behaving like this? If this was normal?
And to answer your question: No, it's not natural for your cat to behave like that. This sort of behaviour is actually caused due to lack of entertainment or attention, or sometimes both.
Pets, especially cats tend to become upset with the slightest inconvenience. For instance, lack of personal space or activities may cause your cat to mope around all day long. While individuals like us can't shower our pets with an ample amount of time and attention, given our busy schedules, we must look for other alternatives to keep them occupied.
Cat toys are an excellent source of entertainment for your cat. Especially if you have only one cat in your household, they may suffer from severe depression. Cat are curious creatures and love to explore new things. Introducing an interactive and intelligent cat toy will help them battle loneliness and keep them playful all day long.
Types Of Cat Toys
There is an abundance of cat toys available in the market today. With so many options, you may find it difficult choosing the right one for your furry friend. Some of the most common types of cat toys include:
1. Catnip Toys: Evident from its name, these toys exclusively feature the catnip They are usually made with any material that is safe to play with and are stuffed with catnip. It is a universal fact that cats are heavily attracted towards its smell, which will entice them to play with it.
Most cats react to catnip very quickly. However, you should also keep in mind that some cats do may react to it. Thus getting them to like this particular toy might depend specifically from cat to cat.
2. Feather Toys: Feather toys have a feather visibly attached to them. The idea behind feather toys is that cats seem to associate the feather to a bird and playfully try to catch it. Feathers can be attached to many intelligent cat toys such as a catcher wand, a soft toy, or even a regular wheel.
3. Wand Toys: These are one of the most common and widely available cat toys out there. The structure is typically a long wand that has a toy hanging by a rope at one end. This little toy attached at the end can be a furball, a feather, or even a fish that a cat can scratch without harming you.
Wand toys are interactive and give you an opportunity to play with your cat rather than letting them play on their own. It's a great toy to play with if you're looking to bond with your cat.
4. Puzzle Toys: This toy is meant for intelligent and smart cats only and falls under the category of intelligent cat toys. They usually comprise of a toy and a treat, where the treat is hidden and can only be found after solving the riddle or puzzle. This is a fun toy for your cat if you're looking to stimulate their brain activity.
5. Electronic Toys: Nowadays, battery-operated or electronic toys are very popular among the pet community. All the types of toys described above may have electronic versions and this will also allow the input of additional features.
Two such features are musical tunes and laser light. These are great features as they can assist you to get your cat to exercise. I'm sure all of us have seen videos of cats relentlessly chasing laser lights for hours!
What To Look For In The Best Cat Toy?
While cat toys are great a source of entertainment for your little buddy, not all toys are suitable for all cats. Here are some of the factors to assess before selecting the best cat toy for your kitty:
This is one of the prime assessment criteria before making your decision to choose the best cat toy. Make sure the material used is safe for your cat and is free from toxin. If your cat is allergic to a certain material, you must check whether that material is included in the composition of the product before making your purchase.
Ask yourself, what does my cat love to do? If your cat loves to scratch, then soft or plush toys will be suitable. If your cat likes jumping and moving around, then a wand toy with feather teasers will keep them more entertained. If your cat is a sucker for catnip and has a heightened sense of smell, catnip toys would be excellent. But, to get all these features in one product, an interactive, intelligent cat toy will be the best option.
Any toy that triggers the five senses of your cat and compels them to use their intelligence in one way or another can be referred to as a smart or intelligent cat toy. Puzzle cat toys are a great example but intelligent cat toys are not limited in variety. For instance, check out this amazing cat toy from Petellow that has all the specification of a smart toy your cat will ever need!
This toy features a round bowl that has a feather poking from one side. This intelligent cat toy runs on battery and moves around in a rotating motion, mimicking birds. This will keep your cat moving and exercising and stimulate their mental and physical capabilities so they can maintain a healthy weight.
It is made for dual purpose as the bowl can be detached and used as a snack bowl to keep them motivated. To satiate your cat's hunting instincts and enjoy all the features of various smart toys in the market, buy this amazing product for your cat. It's within reasonable budget and you won't even have to clutter your house buying multiple toys with this all-rounder, best cat toy.
This is also an important factor especially if you have to stay limited within a certain budget. Some sellers charge unnecessarily high prices that you do not want to fall victim to. You can compare prices for similar toys online to find your perfect fit.
So, what are you waiting for? Get your little kitty cat the best cat toy today!