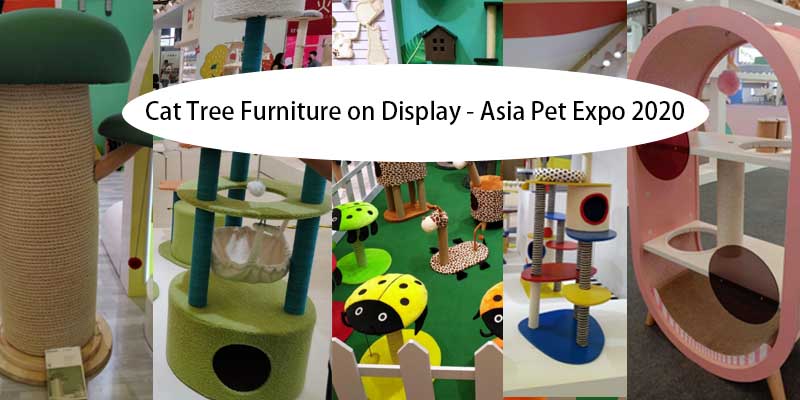 Cat Tree Furniture – on Display at the Asia Pet Expo 2020(1)
We visited the Asia Pet Exhibition 2020 last month. Quite lots of pet supplies products with various colors and peculiar shapes were exhibited in this exhibition. We have also selected some more distinctive exhibits to share, and the cat tree furniture in novel designs come first.
1. Cat tree furniture in diverse colors
These are representative examples of cat tree furniture with different colors. Gray and camel are the more common colors, which might match other furniture in the house very well. Light color looks dreamy and healing, giving people a feeling of comfort and relaxation, just as cute as cats. As for the strong colors, they are more attractive, showing a kind of vitality.
The materials used in these cat climbing trees include sisal, linen, colored wood, colored acrylic, and flannel. In terms of craftsmanship, edge wrapping, sisal two-color winding, color wood spray paint are used.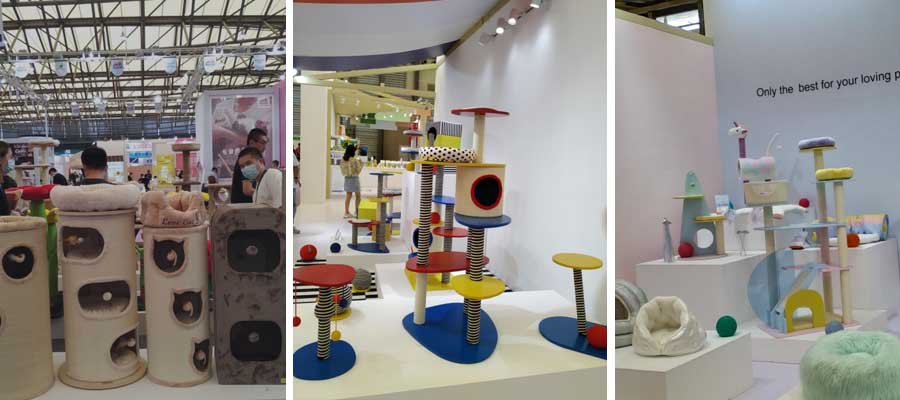 2. Cat tree furniture in animal and plant shapes
Cats come from the nature, and of course the forest theme is essential. Cat climbing trees can be designed into the shapes of flowers, leaves, cactus, which are vivid and lovely. Especially the cactus-shaped cat climbing tree, it is very hot and popular on market. With diverse colors and lifelike animal and plant shapes, these cat tree furniture are very eye-catching, and many visitors stopped and watched when walking through the exhibition zone.
The materials used in these cat trees include sisal, wood, crystal velvet, and lambswool. In terms of craftsmanship, edge wrapping and sisal winding are used.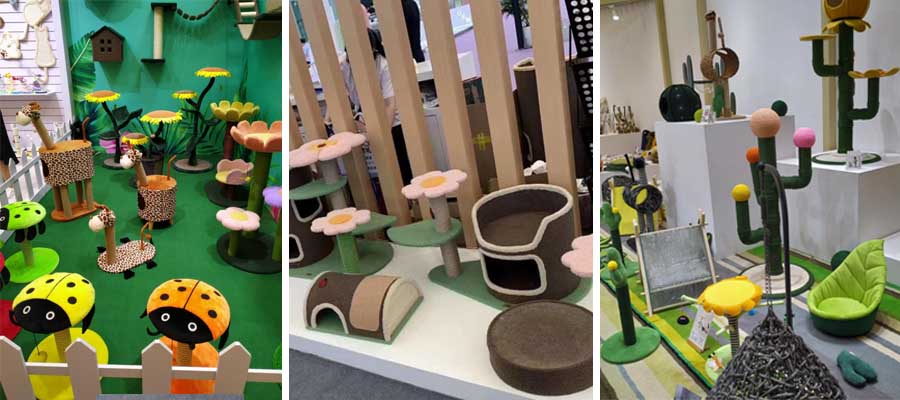 3. Cat condo towers in different materials
Designers make cat condo towers to various styles using different materials. The frame has to be stable to support cats climbing and playing, it is generally made of wood and metal, because they are light, durable and stable. Considering the health of cats, pillars are usually wrapped with sisal, which is most suitable for cats to sharpen claws. Speaking of cat nest or cat house, there are more materials to choose from, such as canvas, flannel, felt cloth, non-woven fabric, acrylic, ribbon, or rattan etc., of course, it is best to be healthy and environmentally friendly. These fabric basically ensure cat well sleeping and resting.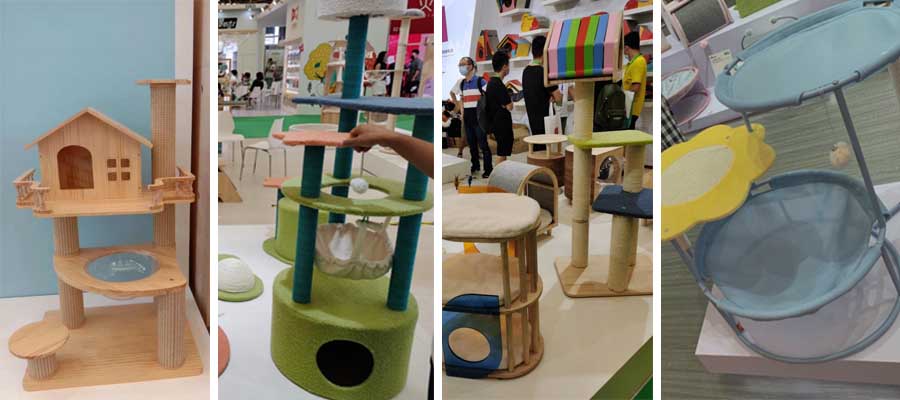 4. Large-sized cat tree furniture
Large-sized cat tree furniture is generally suitable for more than two cats to play. It provides more and higher platforms for multiple cats to climb up and down, which brings more fun and avoids cats fighting with each other. Besides becoming the amusement park for cats, its colorful appearance, unique design, and stable structure can also be a part of room decoration.
The pink large sized cat tree furniture is made up of spray-painted wood, transparent acrylic and corrugated paper. Having a 360-degree view and being brushed in warm colors, it attracted a lot of attentions.
The large cat scratching post tower has four scratchering posts and many platforms. Its typical backgammon design allows the cat to overlook the entire territory. And those platforms are made into unconventional rectangle shapes, which brings a dynamic effect to the overall appearance.
The lifelike designed large size cactus cat tree brings nature home. Green crown and branches of cactus cat tree are designed as platforms for cats to rest, and its tree body wrapped in sisal is used to sharpen the cat's claws.

5. Wall-mounted cat climbing tree
The wall-mounted cat climbing tree is suitable for small spaces like the apartments in the city, so that the wall and upper space of the room can be used rationally. On the other hand, such a wall also looks particularly designed.
It can satisfy those energetic cats who love to climb up and down. And timid cats can lie on high places without disturbing them, basking in the warm sun and blowing in the gentle breeze, which is also very comfortable.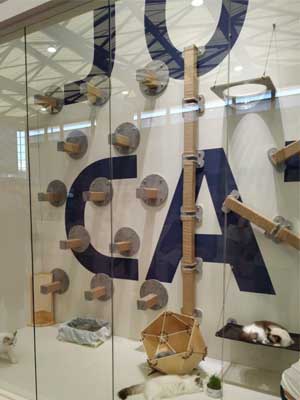 Petellow welcomes your inquiries about one or more of the cat tree furniture, please feel free to contact us. Meanwhile, we have updated many cat tree furniture, also welcome to review our cat tree furniture category. Petellow is a pet toy supplier that can provide you with the most professional service and the most reasonable price.