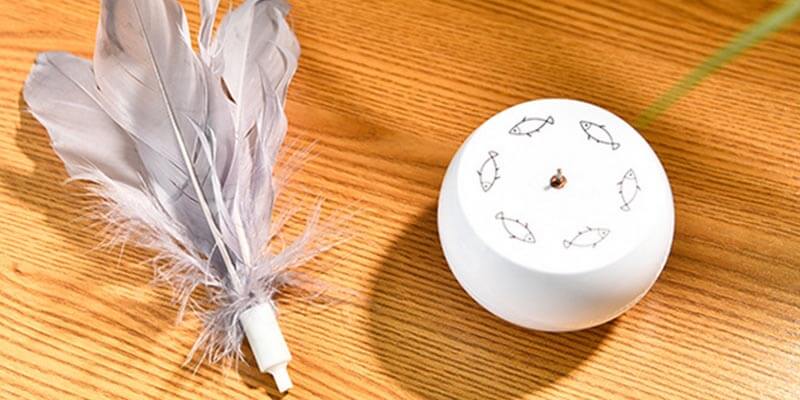 Why Cat Toys With Feathers Are Important?
Pets are like family members. They share our happiness as well as our sadness. So, it's only fair that we take care of their mental health too. Especially with cats, it's important to keep them entertained. If your cat seems a little low on energy, you should consider investing in cat toys with feathers to keep them entertained.
Cats are sensitive animals in general. They are more likely to face inconvenience when you don't spend enough time with them. Lack of space or activities is another big reason behind the mental stress of your cats.
So, what do you do? You invest in some extraordinary toys from Petellow to keep your cats entertained, throughout the day. A proper cat toys with feathers and bells can bring dramatic changes in your cat's behavior.
It's particularly true if you have only one cat at home. The cat will soon run out of options and spend more time moping around the house. So, it's important that you pay some attention to your cat and buy it some cat toys with feathers and bells.
Cat Behavior
Before you jump into buying a cat toy, you need to understand how cats operate. Cats are animals wired to have short but intense bursts of emotion. Cats sleep all-round the day, around 16 hours which is a lot.
But during the time they are awake, they need to exercise and move. In an ideal wild situation, cats will get their workout but hunting preys. But it's not possible for an indoor cat. So, investing in a toy such as Electrical 360 Degree Whirling Cat Toy is a great idea.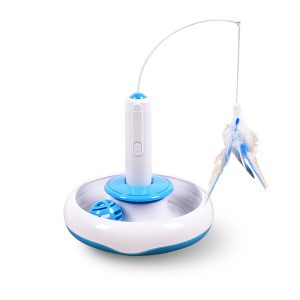 It's a very interactive and innovative toy for the cats. The toy itself is very easy to assemble and operate. It's made with completely safe ABS and runs on AAA batteries. All you have to do once you get this is to assemble it, insert the cat toys feather stick, and put the batteries inside.
The cat toys feather stick will rotate which will tease your cat to cat it. At the same time, a ball will rotate inside the housing below. It's a 2nd source of stimulation that your cats direly need.
Cat Toys with Feathers?
If you're new in the cat toy game, you might be wondering what does a cat toy with feathers look like? Well, it's a toy with a feather attached to it. The feather is visible to engage the cat and keep it entertained.
Cats are naturally attracted to birds and prey. They playfully try to catch them wherever possible. But it's very unlikely for an indoor cat to go chase a bird outside. Instead, you provide it with a cat toy with fur to catch it. There are different kinds of toys like a teaser tumbler or an automatic laser toy. Get one that you see fit.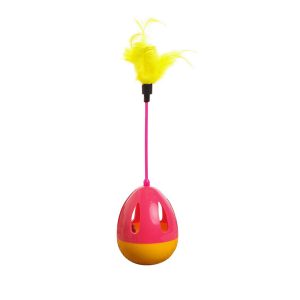 Things to Look for in a Cat Toy with Feathers
There are many options for you to choose from when it comes to cat toys. But you have to be careful in regards to what you choose because it will determine how great of a time your cat will have. Let's take a look at some of the common aspects of a cat toy.
The Purpose
Although there isn't much to think about cat toys with feathers, you have to keep a few things in mind. Is your cat a scratcher? Or a chewer? Does it like to move around and jump a lot? Answering these questions will allow you to better understand what to choose.
For example, if your is the jumping kind, you should invest in an Electric Interactive Cat toy teaser to keep it entertained all day long. These toys are hooked with a feather to tease the cat and make it work harder.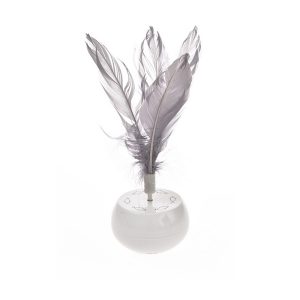 These toys are very easy to assemble and operate. Playing with such toys will relieve the stress, boredom, and the energy from that food that you feed it. These electric cat toys with feathers are electric and run on AAA batteries. They are convenient and they are effective.
Material
The characteristic of your cat is very important while choosing the material of the cat toy. The material will determine how long the toy will last. You need to make sure that the material you choose is not toxic in any way.
If your cat is allergic to any given material, avoid it while getting cat toys with feathers. The Automatic Cat Laser Toy with Feather is a great option to choose for your cat. These toys are made with ABS plastic which is very neutral and very durable. Even if your cat is a destroyer, these toys will last you a very good length of time.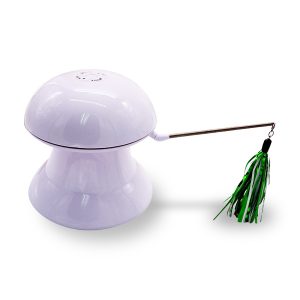 The material of the feather will vary as well. The toys might come with real feathers or fake feathers. If it's a fake feather, it will last you a very long time. But if it's real, you might have to change it from time to time. You can try both and see what your cats like the most.
Functions
The functionality of the toys is another very important criterion when choosing the right cat toys with feathers. For example, the Electric Rotating Cat Toys with Feathers have rotating tumbler attached to feathers.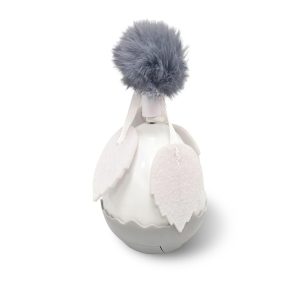 These are very interactive toys that most cats love. The feathers will spin with the tumbler and create a distraction to the cat. The cat will try to catch it and ultimately have a blast. These cat toys with feathers engage almost all instincts of your cat which is very important for its mental health.
Overview
Just like humans, cats need relief too. We can do a lot of activities to let go of our stress, anxiety, and the day's tiredness. But indoor cats don't have the luxury. So, you have to make an active effort to make the life of your cat or cats great.
We, Petellow, are a pet toy supplier based in China. While most of our competitors are shipping low-quality products with a high price tag, we're trying to narrow the gap and provide you with the best product at the least price possible.
So, stop wasting time and get your cat a cat toy with feathers.